Hitty's Book Shelf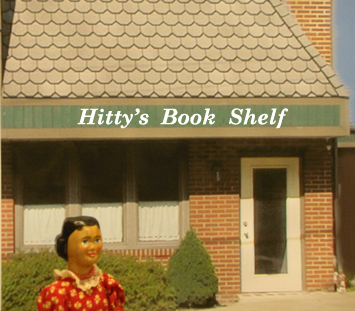 My book store is open for business! There are a number of titles of Hitty scale books being offered for sale. All have colored pictures, limited text and removable glossy dust jackets.
All books are $7.50 each including postage and can be ordered by sending a check or money order to:
Esther Robertson
216 Arthur Street
Zelienople, PA 16063
"Tour of Miniature Art Gallery" is about the Robertson Hittys' visit to a 1/12thvscale miniature Art Gallery featuring Impressionist art.
"Hitty's Alphabet" contains 26 colored pictures of various Hittys posing with individual letters. Example of text: 'A' is for Antique that applies to me.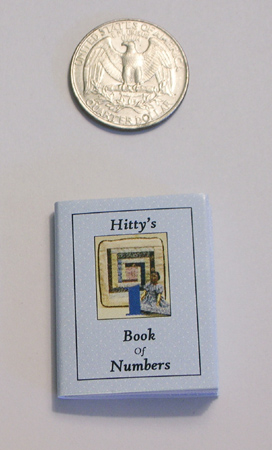 A companion, the same size as the Alphabet book, is "Hitty's Book of Numbers" which has the numbers 1 through 10 with pictures of Hittys displaying the number with a corresponding page of the same number of a particular item.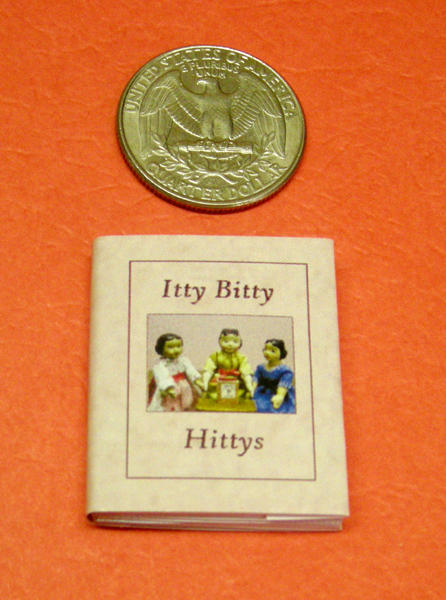 This book features 18 pictures of three Itty Bitty Hittys as they play. They are all under 3" tall.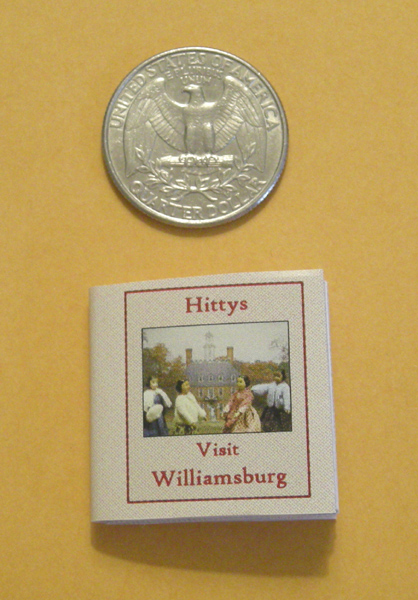 The Hittys visit to Williamsburg is shown in this book of pictures of outdoor scenes of Colonial Williamsburg and pictures of the Hittys looking at the Tasha Tudor dollhouse.
This little book contains pictures from the Hittys' visit to Niagara Falls in May, 2008. It features four additional pictures than are featured in Hitty Robertson's Journal, Chapter 98.
This book contains 20 colored pictures and a glossy jacket. Pictured are the outfits the Robertson Hittys have used for various events and holidays.
Thank you for visiting my book store. If you have any questions please email Esther Robertson at: err216@zoominternet.net