Chapter Thirty Three
The Hitty Tea at the International Guild of Miniature Artists (IGMA) show is over and I want to record every minute but I will start with the morning after the event. As Esther ate her breakfast in the hotel room that morning she looked around the room and explained to us that this was where her interest in Hitty all started. We were in the same hotel and perhaps the same room or one decorated exactly like it. This is where she saw her first Hitty and first heard about a little wood doll that inspired a book. How fitting that there was a Hitty Tea at the Guild's last show at this location.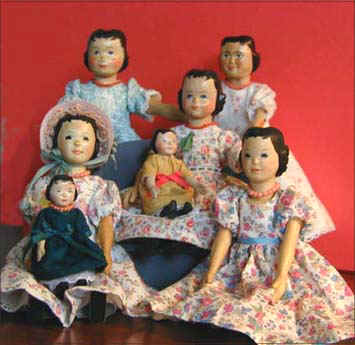 We arrived a day ahead and spent the day visiting with our friends from Kansas City. They had never met Hitty Carol and were so pleased to make her acquaintance. Little HittyPat was particularly glad to have another tiny Hitty with whom to visit. We took a few moments to pose for this picture.
Now on to the actual party! Esther and two of her friends were the hostesses and we Hittys were the main attraction. The affair was held in one of the ball rooms of the hotel with a long display table at one end, and a table with flowers and a beautiful silver tea service in the middle of the room. Barbra-Jean brought the exhibits depicting scenes from the Hitty book. The guests were amazed how the scenes brought to life the pictures behind them. Barbara poured the tea and Esther gave a slide presentation using the pictures of our first year as her Hittys.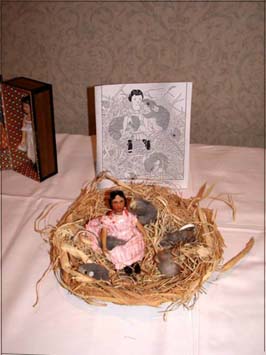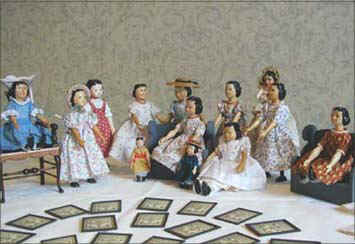 All the Hittys gathered at the far end of the table. Several of the guests brought their Hittys and we were delighted to see them. The number kept growing and there was such exclaiming as each Hitty arrived. What a delight to see old friends again. I know Hitty Freckles and Hitty Elizabeth felt the same. The favors we had helped to pack were spread in front of us and guests were invited to take one as they visited. I really think we made a very pretty showing.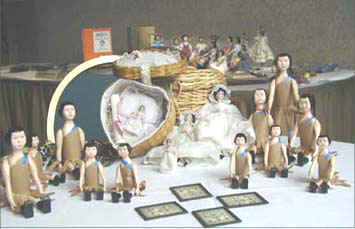 There was a bit of a disturbance at the door and I couldn't imagine what kind of a situation we were to face but I do think it was all handled very well. There was a group of Hittys from New England and their outfits were a bit shocking! They arrived with several lovely china head Hittys who must have gulped when they met their traveling companions. When we had a chance to catch our breath we learned that they had just been created! There hadn't been time to prepare cloth clothing so paper had been pressed into service. It did set me to wondering if this is a new fashion trend. If so, I don't know if I will be able to handle such a departure from my conservative style of dressing.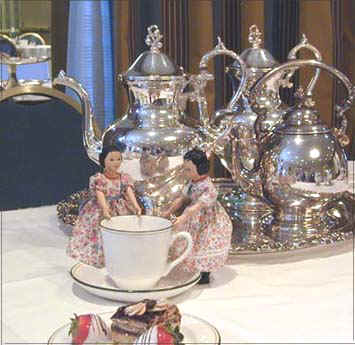 After the slide presentation the guests sat around enjoying tea and conversation with Hittys being the main topic. I realize it is not the most modest thing to say, but I so enjoy Hittys being the center of attention and we certainly were here. I knew the tranquility couldn't last and before I had a chance to stop them, HittyBelle and Hitty Carol went over to the serving table and examined a tea cup and the desserts! HittyBelle has always been so curious about everything and now has Hitty Carol to join her in her antics.
It seemed such a short time until the tea was over. All the months in planning with many conversations about it, I suppose I thought it would last longer. Esther explained that teas are never lengthy affairs and two hours was appropriate. The rest of the week-end we remained with her in our bag and were taken out many times as people attending the show that were not present at the tea insisted on seeing us.
We are home now and this will be the last chapter I will be able to write for a bit as Esther is going to have knee replacement surgery and I do need her help in writing my journal. I wonder, will she take us with her to the hospital? That might prove interesting since I have never been to one. Food for thought.
Next Chapter or Return to Beginning