There have been months of talk about the Hitty Reunion to be held in Williamsburg, VA and I imagine Hittys all over the country have been getting excited as are the Robertson Hittys. Every time Esther got a bit of information as to what was going to happen, who was coming and what everyone was planning to wear, she shared it with us. Some of the Hittys that were coming have been to these affairs before but this will be our first.
A banquet is planned for Saturday and HittyBelle wanted to wear her navy silk taffeta since she had not had an occasion to do so. I wanted to wear my new green dress trimmed in bows. Someone told Esther it has a southern look about it and since Williamsburg is in the south I thought it would be appropriate, however, just as we were trying to decide what Hitty Carol would wear we got word that the Hittys were going to dress like the ladies of the Red Hat Society. We weren't sure which event we were to be in this costume so we tried to get prepared.
HittyBelle spoke up and said she was already partially prepared, at least she had a purple dress. Esther went to the store and found some fabric for Hitty Carol and me and sent it off to have it made.
We waited anxiously for the dresses to arrive and when they did we were so pleased. Hitty Carol likes hers so much she is sure she will wear it for more than just this one occasion. I know I will also.
We knew we needed red hats and we went to the computer and shopped at the Hitabel Fashion Boutique. There, just in time for the event, were three lovely red hats and Esther ordered them immediately.
One day Russell came home from shopping and told us he had seen a group of Red Hat Society ladies having lunch at the mall. He looked at what we were planning to wear and said the ladies he saw were all wearing red boas. Well, when we heard this, we too wanted red boas and so Esther and Russell went to find something suitable. They found red marabou boas but in people size of course, but Esther said she could probably trim them down to our size with a scissors.
They bought the boas and Esther started trimming them shortly after they got home. Marabou is very light and fluffy and it just flew through the air with the greatest of ease! She would try them on us and then would have to trim even more. Suddenly Hitty Carol got such a look of mischief in her eyes and dove down into the pile of fluff and just tossed it into the air! It went everywhere! Esther had to get out the vacuum immediately to clear the mess.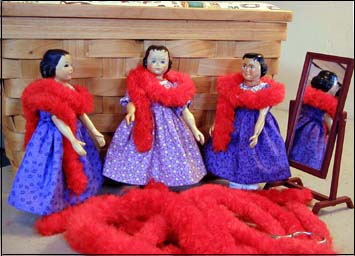 After everything was clean again, she continued to trim and fit us. As the project progressed we realized that there would enough boas to share with our friends. Esther sent off emails to some of her friends and they agreed that boas would be a nice touch to the outfits so she continued to make more so we could share.
We had just returned from an outing and there was a box on the porch. Sure enough, our red hats had arrived. We each tried all of them on and then Esther let us pick which one we wanted for ourselves. The lady who sent the hats, Elizabeth, had been so kind to even send a little one for HittyPat. It made her so happy. We put our whole outfit together and I think we looked like the ladies of the Red Hat Society!
As time went by we became more excited and wanted the days to pass quickly. During that time we could hear Esther complaining about her computer. She said it just wasn't performing like it should. Well, it finally crashed! Carol came to fix it with a new hard drive and when she opened the tower, low and behold, it was full of red marabou! I knew it had easily flown through the air but none of us realized it also went into the computer that was across the room. Computers don't like marabou! It took many days for Esther and Russell to restore all the data and they were grateful they had current back-up discs. I too was grateful since my whole journal is kept on that computer. I just couldn't bear the thought of rewriting it.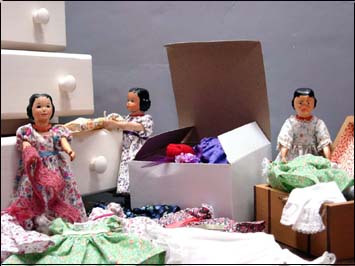 We are now ready to pack and be on our way to Williamsburg and I know all of us will have wonderful time. I do hope we have good weather.
Next Chapter or Return to Beginning