Chapter Forty Three
This past week we were treated to a new experience. Esther had been asked to give a slide program about us at the Butler Doll Club here in Western Pennsylvania and of course, we went along. We had never been to a doll club before. It was a snowy night but that didn't seem to keep many people away. This club was founded sixteen years ago and is very active. Russell went along to help operate the computer and the projector and did not mind at all being the only gentleman in a room full of ladies!
This meeting was their annual Christmas party and many cards and gifts were exchanged. The committee, Jackie, Betty and Millie along with the president's help had put forth a lot of effort into preparing the favors and the table decorations. The round tables were dressed with either a red or green tablecloth with center pieces depicting scenes from the Hitty book. Each place setting had a laminated place mat of the last picture in the book which is of Hitty setting on a bench awaiting more adventures. At the top of each place mat was a real wood bench made by Betty's father. There were Hittys belonging to the members sitting on most of the benches but they did leave one at each table for each of us. I was glad Toni, the president, announced that only the benches were favors not us dolls!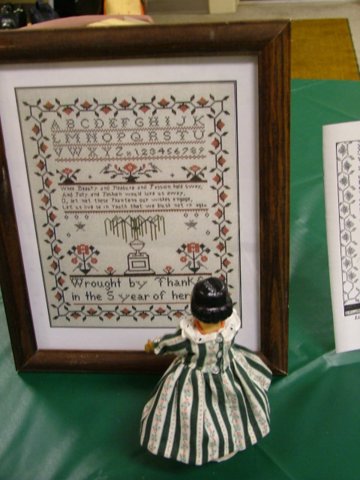 HittyBelle, Hitty Carol and HittyPat each sat at different tables and I was placed at the food serving table in front of the sampler since I was wearing my dress made like the one in the book.
There were so many Hittys that I do not remember meeting all of them, however, there were two that were made by artists that neither Esther nor I had ever seen before. One was a very old doll by Sherman Smith and had jointed elbows and knees. The other was by Larry Tycksen. They both were lovely!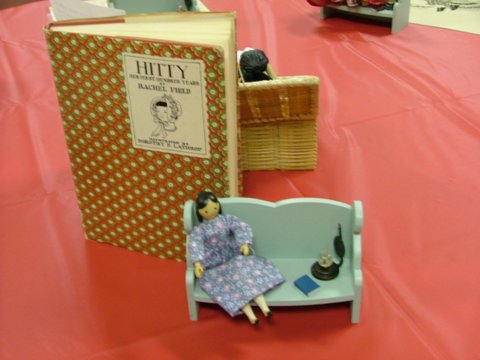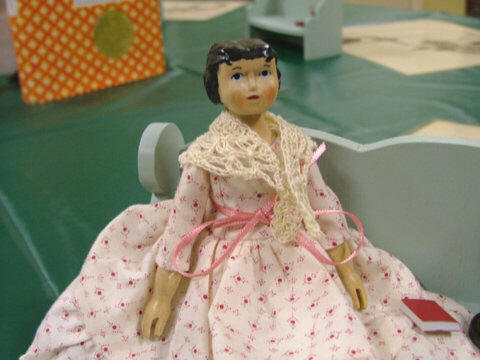 After Esther gave her slide program she was presented with a wonderful surprise! One of the table center pieces was a Hitty in a cradle with a hand tied quilt. This cradle was given to Esther along with the quilt, a crocheted afghan, a crocheted dress and a gift certificate for Russell and Esther to go to dinner at one of their favorite restaurants! They couldn't believe that all those goodies were theirs to take home!
As the evening drew to a close all the Hittys got together to have their picture taken. At this point in my telling of our visit I must say Esther had not taken her camera so all the pictures at the meeting were taken by one of the ladies of the club. Esther was thankful that the lady said we could use them. I imagine that is the last time Esther takes us on an outing without her camera!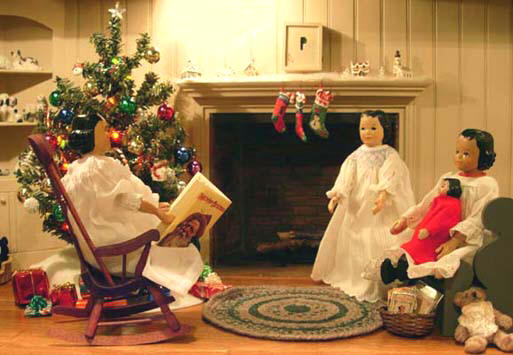 We were so sorry that the evening had come to an end. Everyone said their good-byes and many wishes for a happy holiday. It was a slow trip home because the roads had really become treacherous. Millie had to drive very carefully. When we got home I told my sisters to get into their night clothes and I would read them the story of "The Night Before Christmas." It seemed a fitting way to end the evening.