Chapter Forty Seven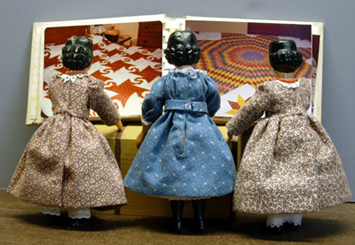 After our visit to Miss Millie's fabric shop a week or so ago, we got interested in making a quilt. Esther said that her mother and grandmother always had a quilt in progress and that her mother had pictures taken of some of them to put in a photo album. We asked if we could see it. There were so many beautiful quilts pictured that it was hard for us to decide which one we liked the best. Esther told us that we could try to make a quilt but nothing with a difficult pattern. We agreed that our first effort should be simple.
Millie and Esther went to the miniature shop in Volant to get some things they had ordered and took Hitty Carol along so the owner of the shop could meet her. HittyBelle and I had met her on a previous visit before Hitty Carol came to live with us. After picking up the items they needed they went to a quilt shop in a nearby town to see if there was any fabric suitable for us to make a simple quilt.
Both HittyBelle and I were pleased with their selection of fabrics. Since spring surely will come soon, she thought we would like to make a quilt with beautiful flowers. She said we could make quilt squares of each flower and stitch them together to make the quilt any size we wanted. My task was to stitch the squares together.
After I stitched a dozen or more together we put it on the table to see just how it would look. We wanted to make certain that the different colors of the flowers would blend together and not have all the same color in one row. The colors were so bright and cheerful. This really was a lot of fun and not difficult at all. I think we are going to like this quilt very much. I know we have a lot of work to do to finish it but we are finding it to be an interesting experience.
Hitty Jane is experienced in making quilts as are most of the ladies and young girls that come from Williamsburg. When HittyBelle showed her what we had done, she offered advice on how to apply a binding. She too thought the fabrics very pretty and was pleased to see such lovely flowers and remarked that the colors were so cheerful. I think the bright colored flowers make her think of Williamsburg where the weather is not as cold and dreary as it has been here in Pennsylvania. This is the time of year that winter seems quite long. I am glad we have a project to keep us busy.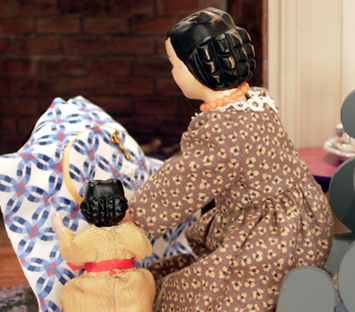 While Millie and Esther were at the miniature shop making their selections, Hitty Carol saw a small quilt already pieced together and told Esther it would be perfect for little HittyPat's bed. She said she would be glad to learn how to quilt it. Esther agreed, so she purchased it and a little quilting stand for Hitty Carol to use for quilting. HittyPat was so pleased and wanted to watch her sew every stitch!
When Hitty Carol came home, I asked her if perchance they had looked in any pet stores. She said no. I was a little disappointed since I thought Esther was getting used to the idea that we want a dog. She did tell me that they had passed a buffalo farm! I didn't realize there were such creatures in this part of the country. Maybe someday we all will go for a ride and get to see them. In the meantime we will work on our quilts.
Next Chapter or Return to Beginning