Chapter Forty Eight
Winter has been very long and hard here in Western Pennsylvania so Esther and Russell decided to take a trip and go south. They were both anxious to see green grass and flowers. They talked to Carol and Martha and plans were made to stop for a few days in Williamsburg and then meet more of the family in North Carolina. Their son had called and said it was 70 degrees and he had just mowed the lawn. That sounded wonderful to them.
We dressed in our new outfits that we were planning to keep until Easter as it seemed appropriate to wear something cheerful for the trip. HittyBelle and Hitty Carol spent most of the day before we left washing their hands in our powder room. They do love to primp! I helped Esther with the packing.
We were finally on the road and I was particularly pleased with our new travel case. It has a window big enough so that all of us can see what is happening. I know we don't get taken into every place that Esther and Russell stop but when we do, I now can see.
The first place we visited was Colonial Williamsburg. Hitty Jane was so anxious to show us the Tasha Tudor dollhouse but what a disappointment! When we arrived at the Abby Aldrich Rockefeller Museum we found the iron gate closed over the door. Upon inquiry of some workmen nearby we were told that the whole exhibit had been moved to another location and was not completely set up so there were no visiting hours. Esther was very disappointed as she had hoped to show us the dollhouse as well as do some shopping in the gift shop.
We spent several days in Williamsburg and then drove to the Robertson's son's home in North Carolina. Arrangements had been made for the family to gather and indeed they did! Seventeen members of the family all arrived on that Friday afternoon. The center of attention was the three little great grandsons so my sisters and I graciously stayed in the background.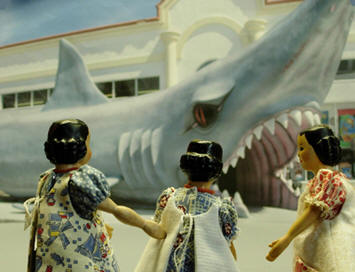 That whole area becomes a resort in the summer months with each store competing for the tourist trade. We were most interested in the Shark Shack. The doorway into the store was through this huge plastic shark's mouth! I was relieved it wasn't real. One of the children wouldn't go in until he saw people were really able to come back out.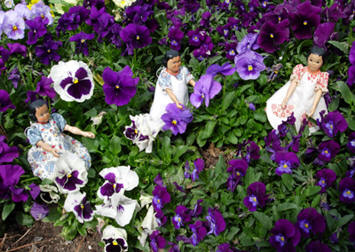 It was such a treat to see flowers again. We just couldn't get enough of them. We saw this large flower bed filled with pansies and were delighted to wander through them. It would have been nice to pick some and take home but Esther said they would wilt and it was much kinder to let them be so others could enjoy them. I didn't want to think about going back to cold weather and I wanted to take a little bit of spring with us.
When we got back from our trip it was time to think about Easter. Last year on Easter morning was when Hitty Carol arrived at our house. I am so glad she did! I like having several sisters.
Esther got us some eggs to color. We hadn't done this before so it was a new experience. We put on our regular aprons since we weren't sure if the dye for the eggs would wash out or not and thought it best not to take any chances with our new pinafores. Hitty Carol and I dipped the eggs into the various dyes and were pleased to see white eggs become beautiful colored ones.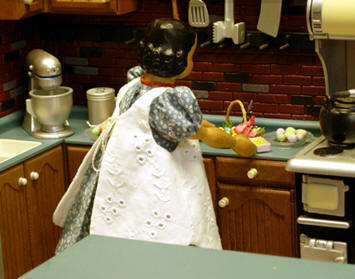 HittyBelle put the candy and eggs in the baskets. We had to do our work while HittyPat was taking a nap because she still believes that all this is really done by the Easter Bunny. When all the baskets were ready and just the way we wanted them, we asked Esther to hide them.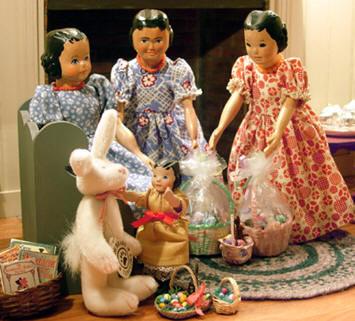 Easter morning little HittyPat was so excited! She also received a big bunny that was bigger than herself. She was fascinated! It took her a bit of time before she even looked at the pretty baskets and I know she just assumed the Easter Bunny had left them for her.
Now that this trip and Easter are over we are looking forward to going to Kansas City next month to visit. It is such a long drive so this time we plan to fly. Perhaps when we come home we can discuss getting a puppy. I hope Esther doesn't think we have forgotten about it.
Next Chapter or Return to Beginning