Chapter Two Hundred Seventy Six
Hitty Helen has returned! We are so pleased to have her back and my oh my does she have the stories to tell. She has had a marvelous trip and I am sure we are going to hear much about the United Kingdom, New Zealand and all about the Rose Cottage Hittys.
We told her we followed her on the computer as much as we could. She asked if we received her post cards and indeed we did. Of course, one of the first things after we all gave her a hug was help her unpack her souvenirs - many brochures, fabric for dresses, yarn, a candy bar and a puzzle! I guess that pocket puzzle of the Kiwi family got the most attention.
She explained that she was not the only Hitty visiting the Rose Cottage at that time. Hitty Helen Miller from Missouri was also visiting. They both enjoyed meeting all the Hittys from that side of the ocean and making new friends. She went on to say they had spent the first few weeks of the visit in the United Kingdom and then Hitty Madge, Hitty Helen Miller and Hitty Helen left with their hostess to visit New Zealand. Their hostess visits her parents there each year.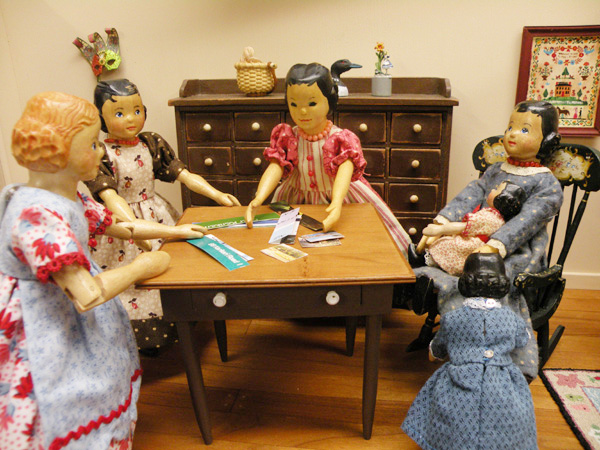 As we read all her brochures, and we kept her talking and talking. She sat down in the rocker and immediately HittyPat climbed up on her lap. As I left the room I noticed she was staring off into space, and could tell that jet lag was taking its toll. We hadn't given her a minute to rest!
Soon Grandma Alice and I came to her rescue and had her change her dress. She was still in a flannel dress which was much too warm for this spring day.
We are delighted to have our sister home again and also pleased that she has had this opportunity to add to her travels. She is the one of us who has been to camp and traveled the western part of our country with Carol and Bill. A much traveled Hitty!
Postscript: Beautiful pictures of this wonderful adventure of the two Hitty Helens can best be seen on the blog by Lorraine Tyler, their hostess.
http://hittyatrosecottage.blogspot.co.uk
Next Chapter or Return to Index