Chapter One Hundred Forty Five
I heard a couple of my sisters singing, "Rain, rain, go away - come again another day."
They had planned on spending the day in the playhouse but the weather gave cause for them to reconsider. HittyBelle and Hitty Colleen rushed out before the raindrops became too heavy and put raincoats on the lawn geese. Fortunately the rain only lasted the day and then we were able to resume playing outdoors.
We have had much to do lately with preparations for company. When Esther told us of the various visitors that are planning to come, we got excited clear to the end of our pegs! Over the past several years, Hitty families have visited us, but this time they are all coming at the same time! I can hardly believe it, they are coming from Connecticut, DC, Massachusetts, North Carolina and Virginia! They have been friends via email but this is the first time some of them are actually meeting each other face to face. This should be interesting!
We have planned a variety of activities and have many new things to show them. Of course, the biggest addition to our Hitty world has been the playhouse. I do hope they enjoy playing in it. We now have it furnished and received real children's artwork for the back wall. We have Lindsey and Sidonie to thank for the posters.
I made a grocery list and Becassine checked it to make sure I had not forgotten anything. She wants everything to be perfect for the visitors. I do believe she is planning something with just the visiting Becassines. I am certain they will have many tales to tell regarding their Hitty families.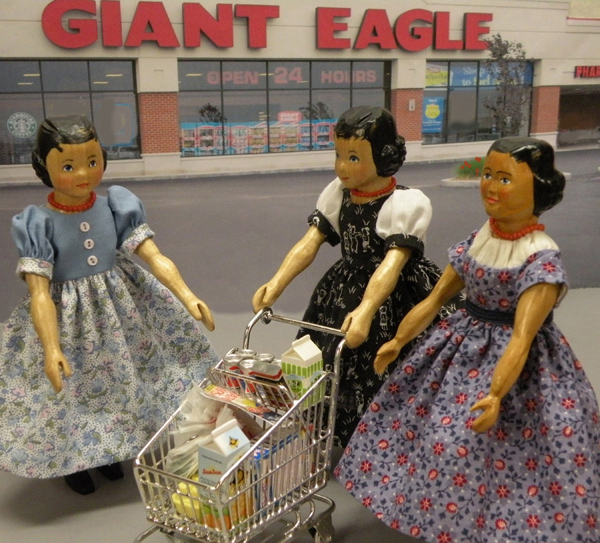 Esther does not like to cook at all, so all meals are to be eaten elsewhere. We need only to be concerned with having enough snacks and soft drinks to keep the ladies energy level high. They are planning on photographing every situation we Hittys get into! With six families of Hittys there will certainly be a large number. The ladies will have quite a time keeping up with us!
We got so distracted with our preparations that Michael was left unsupervised. The result was a little boy who could not resist getting wet!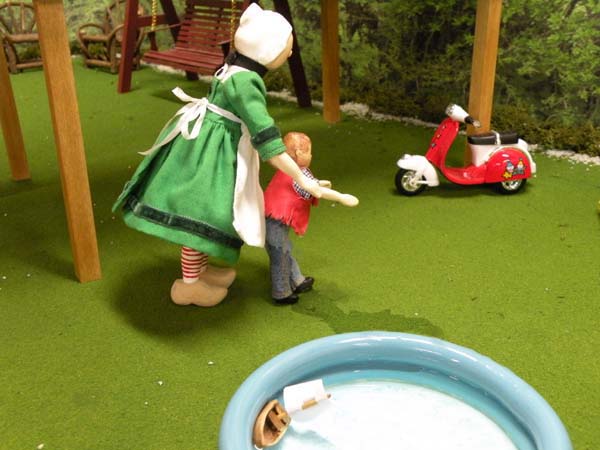 Becassine did not take kindly to his antics. As she ushered him into the house for dry jeans, I could hear her disapproving voice giving him a stern lecture.
We told Michael that he too would have a visitor and it would be a good time for him to behave and let us get ready. I end this chapter with a song in my heart, a smile on my face and hope that all will go well for safe travel for our visitors and wonderful time!
Next Chapter or Return to Beginning
or