Chapter Two Hundred Twenty Five
We have returned from a wonderful trip! Beautiful weather, good company, meeting friends, and sightseeing all rolled into ten fun-filled days. I will try to relate as much of it as I can remember.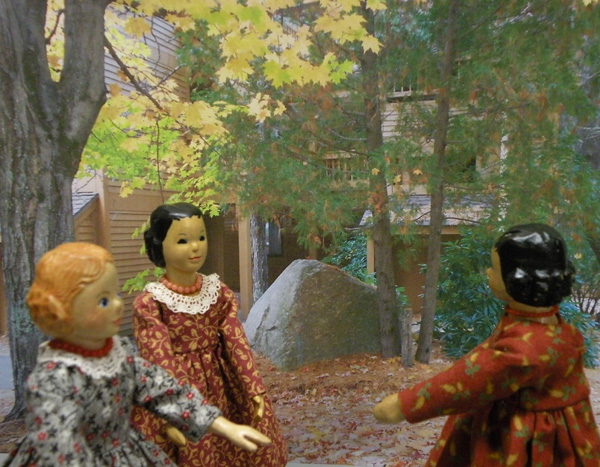 It took us two days to drive to our destination which was in the region of Lake Winnipesauke, New Hampshire. Our accommodations were nestled in a lovely wooded area. It was peaceful and quiet and we certainly were glad to return to it after each day's adventure.
New Hampshire is known as the granite state and I certainly saw evidence of that! The rock at the end of our parking lot was the biggest I had ever seen. I don't know if it was granite but to me it looked just as hard.
Before we would leave on the adventure of the day, we Hittys got to play in the yard. My sisters played games around a tree stump! I guess Hittys can entertain themselves with just about anything.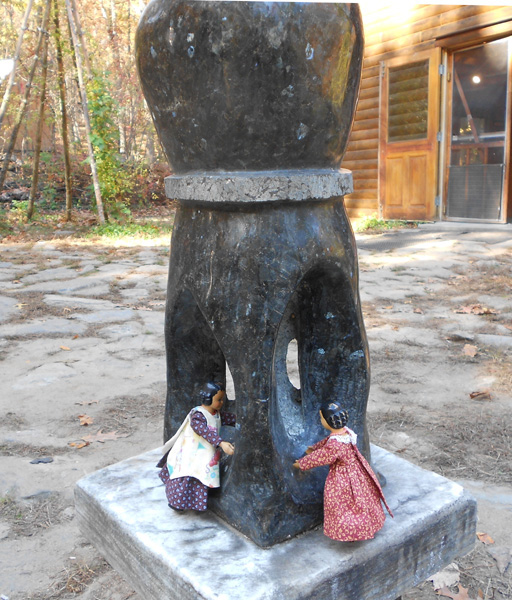 Our first adventure was a trip to the American Stonehenge site in Salem. We were told the path to visit the entire site was on rough ground so Esther and Russell stayed behind at the lodge. HittyBelle and Hitty Carol didn't mind at all since there was such an interesting 'stone' for them to examine.
Hitty Colleen is the most adventuresome of all of us and insisted on accompanying Carol and Martha on their tour of the site. Caves and dark passages do not faze her at all.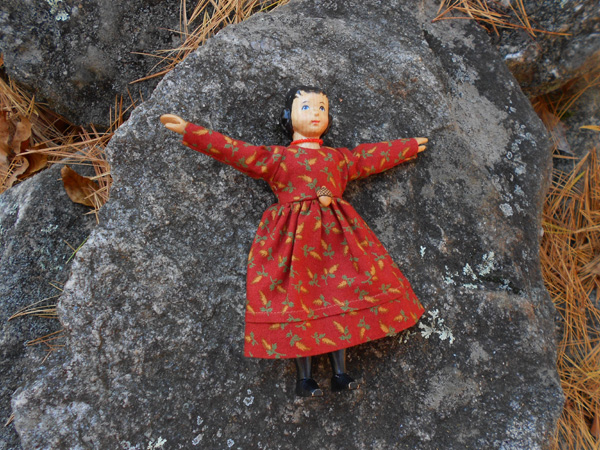 When the girls sat down to rest, Hitty Colleen found a rock just her size. She was enjoying resting until Carol pointed out the rock was next to the one named the sacrificial alter!
It is hard to understand about ancient civilizations and how this site came to be. This astronomical chart perhaps helped explain the 'why' to visitors.
Meanwhile back at the lodge, Ima discovered a whole shelf of toy llamas and loved hugging their soft fur. This was far safer than when she watched the live animals through the fence.
The next day was one of our highlights. We had made plans before leaving home to visit with a Hitty friend from Canada. In order that neither party had to drive the whole 150 miles, we decided to meet half way in St. Johnsbury, VT. Of course, we saw a fabric store along the way and just had to add to our stash of fabric but it didn't delay us. We drove into the parking lot of the restaurant at the same time as our friend. Perfect timing!
Esther and Claire were so glad to see each other as they had only met once and that was years ago at a Miniature Show. The time went far too quickly. Hitty Aude and her sister Hitty Charlotte presented us with a rocking chair and a box for Becassine that Claire had painted.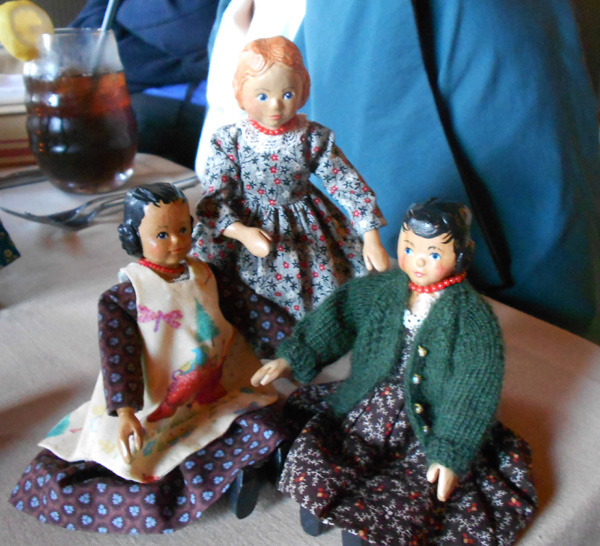 Hitty Maude visited with HittyBelle and Ima and explained to us that she and Hitty Aude had both been carved from the same tree grown on their home property. We found that quite fascinating! The time to leave came all too quickly. I do so hope we get to see them again before too long.
Wednesday again dawned clear and sunny and we were off to visit the Loon Center in Wolfeboro. One of the evenings during our visit, we had watched the movie "On Golden Pond" which had been filmed in the Lake Winnipesaukee area. We thought the loons used in the movie were truly real loons but to our surprise they were wood and mechanical. They had been operated by a diver!
Continuing with the tale of our trip, we had also arranged before leaving home a visit to Gail Wilson, a well known doll artist. It was a good thing she had sent us a map! She lives in a beautiful remote area of New Hampshire and not the most accessible.
When Hitty ladies get together they do have a lot to talk about. Esther shared her story of how she got 'into Hitty' and we all were delighted to hear Gail tell of how dolls became her business. Everywhere we looked there were dolls - many we had heard about but never seen. Many were made of cloth with paper-mache heads. Oh how I wish I could tell you about them all! Best to just say, we had a most enjoyable day!
All during our stay in New Hampshire we passed scene after scene like the one in this photo. It is a land of lakes, mountains and scenic overlooks. A truly beautiful state. On our last day we traveled north to the foot of Mt. Washington and got a tiny taste of what is to come. It was spitting snow! Time to head for home.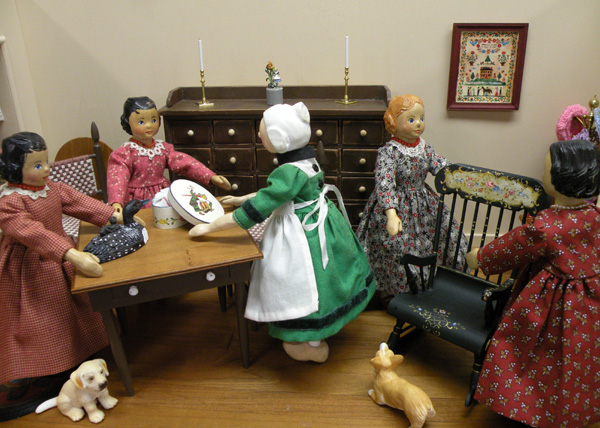 Two more days on the road, traveling through Vermont and New York before finally reaching Zelienople, Pa. I don't have the exact mileage number but I know it was a long trip. After a day of unpacking, we Hittys enjoyed showing some of our treasures to Becassine and our sisters. A beautiful painted box, our new rocking chair and a souvenir loon. All are things that will help us remember New Hampshire.
Next Chapter or Return to Index