Chapter Two Hundred Twenty Seven
We are home again and it's time for me to gather my thoughts together and write about all that has happened. Indeed we did have a lovely Thanksgiving despite the concerns about weather. We left on Monday, a day earlier than usual and had dry roads and light traffic. That was not the case for those who traveled the next two days.
Our plans for Tuesday were to meet our friends the Browns for lunch and we were able to do so even though it was wet but the temperatures had not yet fallen below freezing. We didn't understand why Esther was so concerned that the weather would keep us from our luncheon date. We should have known something was brewing when she denied our request to take along six of us instead of the usual five which allowed only Hitty Catherine to go along. Esther had mumbled something about perhaps needing room in our travel bag and asked Hitty Missy to please change her dress as she wanted to take that particular blue one with us. Seemed very strange to me.
When we arrived at the designated restaurant and after a few words of greeting and hugs all around, a box was brought out and you can see by the picture what it contained. We have a new sister! Her name is Hitty Sue. Esther told us the name came to her the first time she saw her picture. From what I understand, Hitty Sue was simply in a picture of some Hittys going to a tea with Judy Brown and she 'waved' at Esther! Now we knew why there had been such fretting over whether we could keep our luncheon date!
We all were so excited and I do believe we all tried to talk to her at the same time. Within minutes Robertson's daughter Carol joined us and she too had exciting news!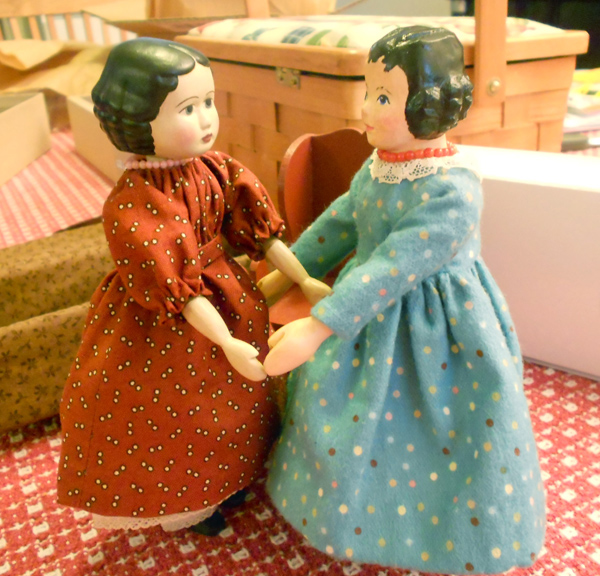 Indeed there was another surprise. A box arrived at Carol's and another Hitty appeared! She was created by Gail Wilson and will live in Maryland with Carol. The two new Hittys greeted one another and I sensed that both were a bit overwhelmed. Her name is Hitty Moonbeam. Hitty Carol, who had spent a week with Carol in Maryland before joining our family, had a knowing look on her face as she is sure Hitty Moonbeam will have a different life style from those of us here in Zelienople.
When we got home my sisters could hardly wait to hear all the news. They were as shocked as those of us on the trip were to have a new sister. First to greet Hitty Sue was Grandma Alice while HittyBelle and Hitty Helen anxiously waited their turn.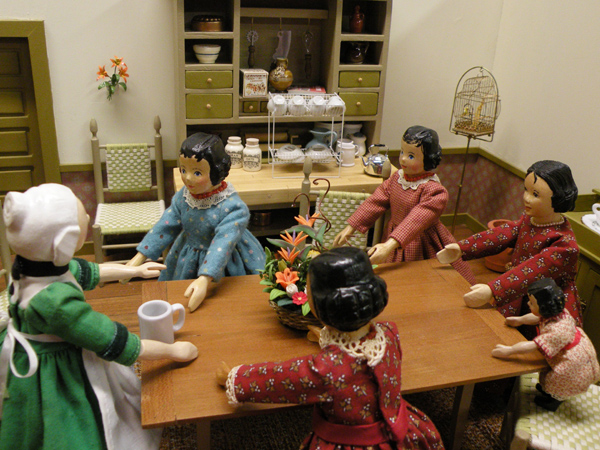 I could hear some of my sisters in the other room with Becassine so I hurried her along. It was quite a task for her to keep our names straight. She had not been aware of the size of the Hitty family she was joining!
We did go shopping at G Street Fabrics while we were in Maryland as we had planned. Esther had worked there 20 years ago and she was delighted that two of the staff remembered her! After we are rested and settled down, it will be time to think about Christmas. I know it is an exciting and festive time but surely it won't match this past holiday. A final note, we have had word that Hitty Moonbeam is on her first trip - Williamsburg!
Next Chapter or Return to Index