Chapter Two Hundred Twenty Eight
The time between the Thanksgiving holiday and Christmas was a week shorter this year and with the multitude of things to be done, those days were truly missed. Also winter weather arrived before we could catch our breath! Normally in our part of the country, we don't get full winter weather until after Christmas but as I write this chapter, we have snow covered lawns, icy road conditions and below normal temperatures. I do hope all this 'stuff' moves on and we can have dry roads for Christmas.
Regardless of the weather, preparations were the order of the day. Becassine told Grandma Alice all about our family traditions. The two of them unpacked the Christmas storage boxes and supervised the setting up of the tree.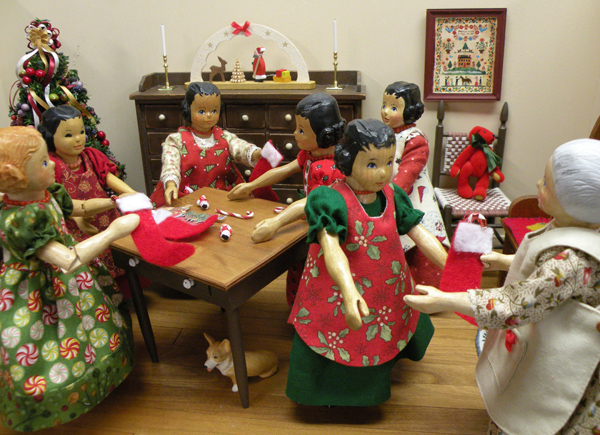 We changed into our holiday clothes, wrapped our gifts and prepared the stockings as Christmas music filled the air. Oh, it is all so festive!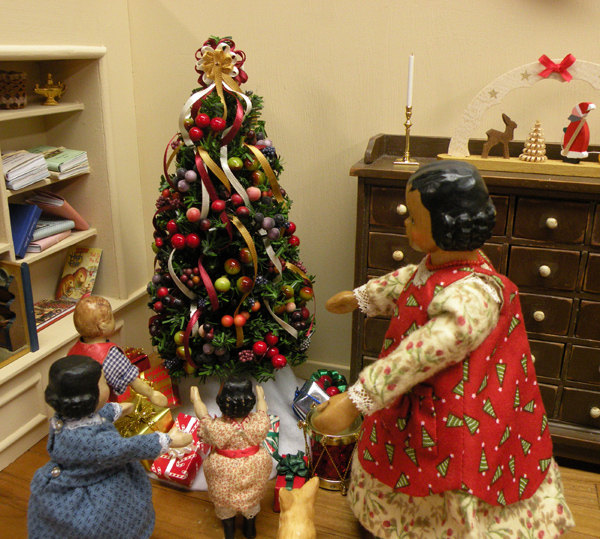 The little ones were so excited to see the tree. Of course they wanted to start opening the packages but we explained that these were gifts from one to another and we must wait until Christmas morning after Santa has been here before we open anything.
Obviously this does not apply to Esther. Each arrival of mail that has an item with her name on it, she opens immediately! As she tells it, she wants us to enjoy some of our Christmas gifts during the season and not get lost in shuffle when the family arrives and people take over the house. One such box contained a delightful little cottage and when a light was held to the opening in the bottom, one could see a beautiful little figure standing inside.
After a busy day of preparations, we all enjoyed the treats Becassine and Grandma Alice had prepared for us.
When evening arrived, I turned on the lights of our little village of houses in the parlor to show Grandma Alice and Hitty Sue. Both were so happy that they too were now part of our family.
The Robertson family and Hittys wish all our readers a MERRY CHRISTMAS AND A HAPPY NEW YEAR!