Chapter Two Hundred Thirty Six
What a joy it is to have beautiful warm weather. We all have been enjoying playing in the yard. Not every day is suitable but at least there are a couple days a week that one just does not stay indoors! Grandma Alice takes advantage of every opportunity to work outside and Michael is quite willing to help her.
On one of the sunny days, the mailman brought us this big teddy bear! It was a gift from our friend in Kansas. The little ones, Hitty Sue and Hitty Colleen spent the entire day playing with it. It is very light weight and they could tumble all around the yard without them or the bear getting hurt.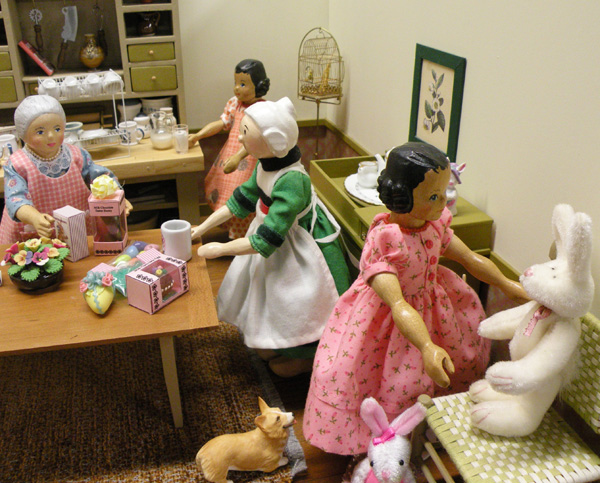 Esther reminded us that this is Easter week and that we best get prepared. HittyBelle brought out the stuffed rabbits while some of the others opened the bags of candy etc. that had been purchased to fill the baskets.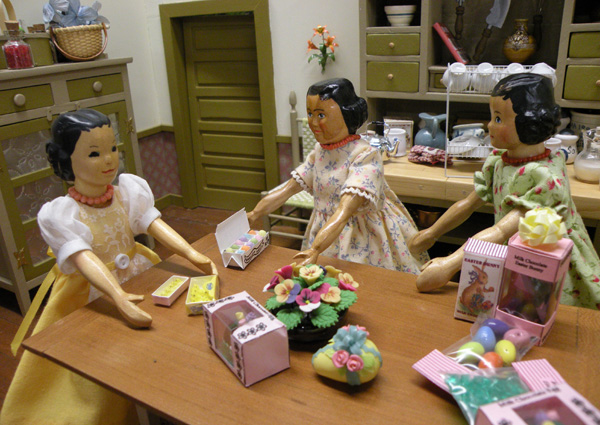 Hitty Carol, Hitty Catherine and I made sure there were still some yellow peeps left. We have learned over the years that Esther is quite fond of them and sometimes they do not last until Easter!
It is interesting to see all the things that have been saved from year to year for each holiday. Some items become family traditions. Ima enjoyed unpacking the fluffy pink chicks and actually spent most of the afternoon playing with them. They are so soft to the touch and great to cuddle.
This is a busy week for the family as one of the Robertson granddaughters and three children are visiting. A festive week is in store. The Robertson family and Hittys would like to wish all our readers a Happy Easter.
Next Chapter or Return to Index