Chapter Two Hundred Thirty Nine
I hardly know where to begin. It has been one of the most exciting weeks. We went the annual Molly Cromwell Sturbridge Festival of Miniatures! This was not a Hitty event like we have attended where Hitty is 'the' main subject. This was a show like Esther used to attend when miniatures were her main hobby. However, this one was different than other miniature shows - there were Hittys for sale as well as rooms and furniture our size!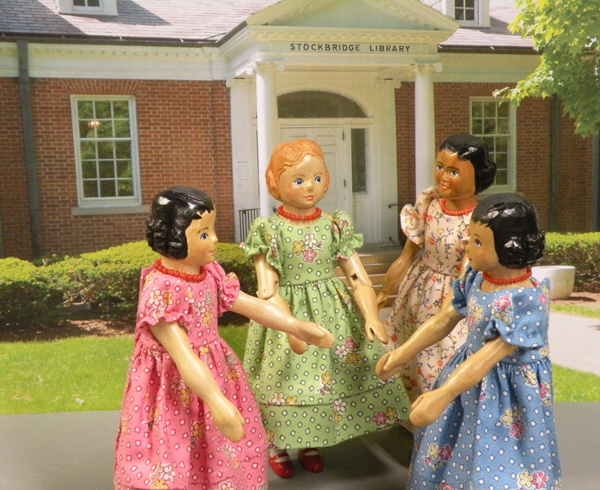 We traveled to the show with Hitty Moonbeam and her mother. Neither of them had ever seen the original Hitty so our first stop was in Stockbridge, MA. The library is to be renovated shortly and seeing her will be limited so we were delighted to get to visit. We visited for a bit and then waited outside while Hitty Moonbeam took an extra look.
We arrived in Sturbridge, MA later that day and located the show hotel. We joined our group of Hitty friends at a near-by hotel. Oh what fun! We were so glad to get to see many of our Hitty friends again. Before the first evening was over, Hitty Moonbeam acquired a sister!
All of us in the Hitty world know that Hittys do not remain an only Hitty for long. So of course she could not remain a single with an array of wonderful Judy Brown Hittys from which to choose!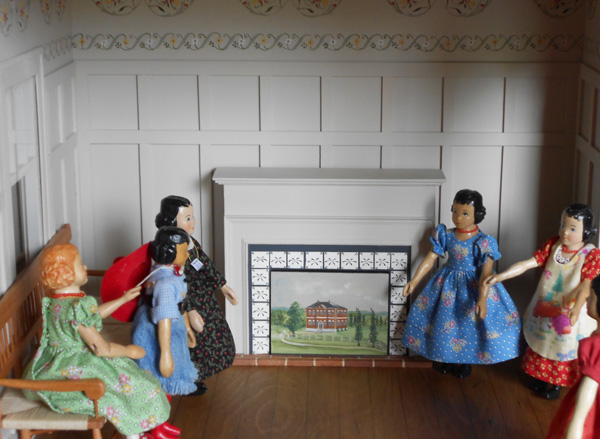 We were all absolutely thrilled to get to see Hitty Joan and Hitty Lizzie's new house. I think everyone of us was green with envy! It was made by the people in Canada who trade under the name 'Art to Play With'. We all looked forward to seeing their table at the show.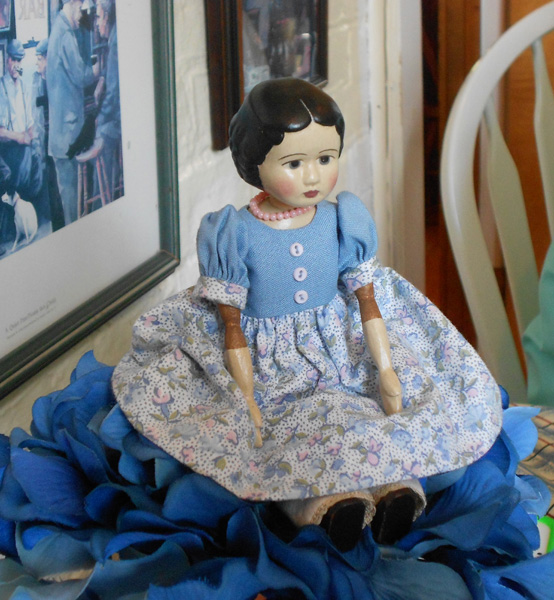 That day was a free day for friends to visit and shop. Everyone had a delicious lunch at the 'Soup to Nuts' restaurant. I was shocked when Hitty Moonbeam climbed on top of the flower arrangement but then, I noticed, some of the other Hittys did also! When Hittys get together we sometimes do strange things.
At last it was time to go to the show. Everyone who attends the Preview receives a name tag to wear and we Hittys didn't want to be different so Esther made one for each of us. We were proud to wear them all week-end.
There was so much happening that we Hittys really didn't get photographed often. Many of our friends were there but when we got home and looked at the pictures, there were many missing! We did, however, at least get this picture of some of us.
We are now back home and as soon as Esther gets caught up on her chores she will unpack the goodies she bought. I am not sure what is in some of the little packages but we did get a glimpse of a new room which I will tell about in my next chapter.