Chapter Two Hundred Forty
When the Robertson household got back to normal after our trip to the miniature show, the new room we acquired was finally unveiled. A new room can be an exciting experience, but we Hittys are not to be the occupants of this one. We are so used to everything being for us that this revelation came as a surprise. Esther explained that Becassine and Grandma Alice need their own space. Taking care of a household of Hittys like ours can be a lot of work and they need a place just for themselves to get away from it all.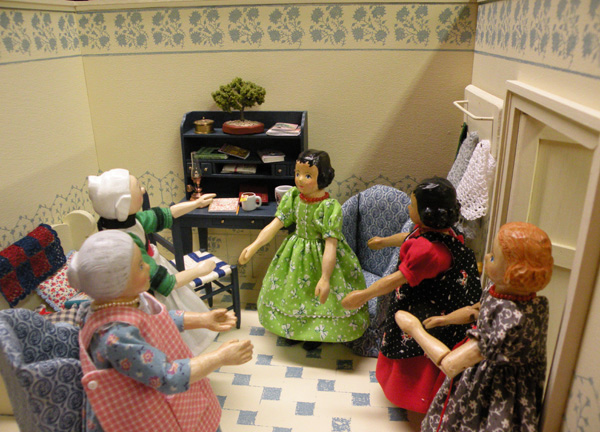 They showed us their new rooms and told us we could come in from to time but only with their permission. The rooms are silk screened with a lovely soft blue and cream color. Very restful indeed. We will, of course, respect their wishes.
There are actually two rooms and one will be used for storage. Not for toys but things that are only used from time to time.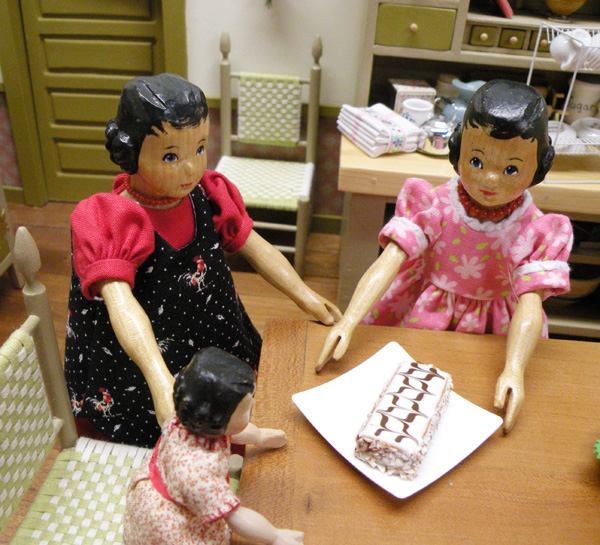 One of the treats she brought us was a Napoleon. No, not a figurine but a dessert! It is one of her favorite desserts and she thought we might like it too.
Esther was quite excited about getting the new rooms, and she also bought this fascinating Venetian mask to decorate the library. If we ever go to a costume party, one of us can wear it!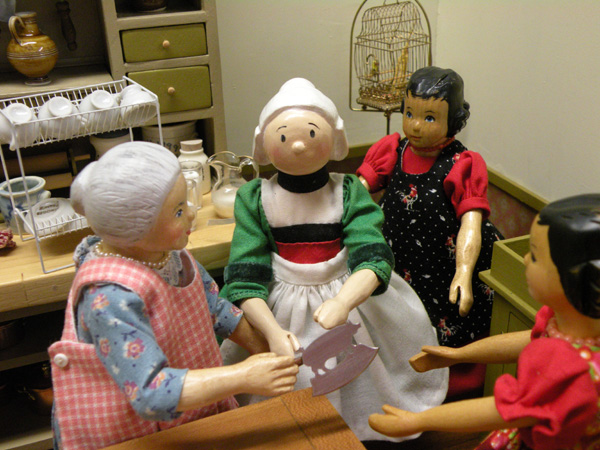 While we were gone, the Robertson's son Bill was here and he brought Esther a Mother's Day gift. He makes miniatures for a living and we are always pleased to get something he made. This time he made a meat cleaver! I am glad Grandma and Becassine know what to do with it. It is quite sharp and I don't plan to even hold it.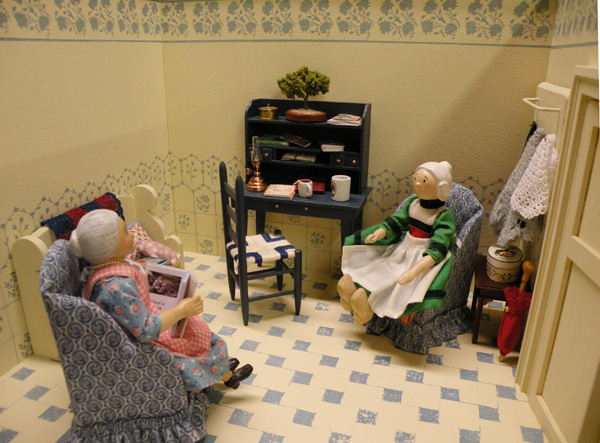 At the end of the day, we looked around for Becassine and Grandma Alice and found them taking advantage of their new rooms and enjoying a well earned rest.
Postscript: The new rooms were created by "Art to Play With" - see their website at: http://www.hittysplace.com
Next Chapter or Return to Index