Chapter Two Hundred Forty Four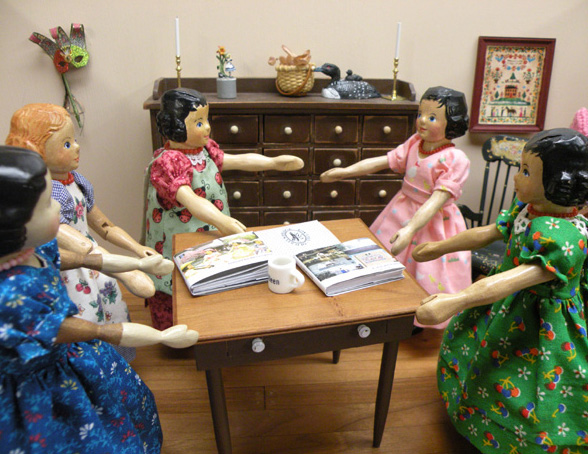 We have just had a delightful couple of days. Hitty Moonbeam and her sister Hitty Claire were visiting. Those of us who had met Hitty Claire on our trip to Sturbridge were glad to renew her acquaintance.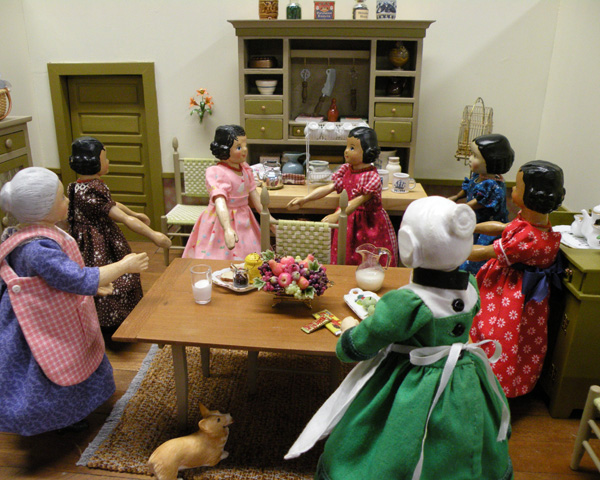 Hitty Moonbeam has been here before so she took Hitty Claire around and introduced her to some of the rest of the family. Since Hitty families are sometimes quite large, she said it is easier for her to meet just a few at a time. I think that is a very good idea.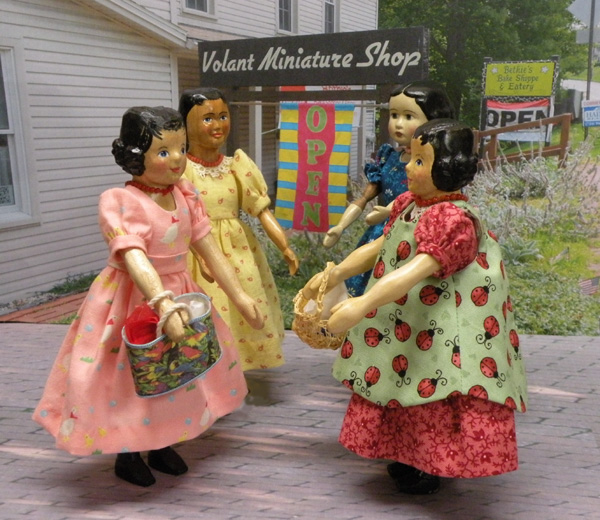 One of the highlights for Hitty visitors is a trip to the miniature shop not too far from here. It is a lovely drive through the countryside. We always find a few goodies at that little shop. Hitty Sue and I were more than willing to accompany our guests.
Earlier in the visit there had been a conflict. Hitty Colleen had not heard Esther tell Hitty Claire that she could pick out a dress and she got upset when Hitty Claire headed for the closet. It was time for Becassine and Grandma to intervene!
They called Hitty Colleen into their room and reminded her that this family shares. They ask her to remember that just recently the Robertson Hittys had received that wonderful kaleidoscope as a gift and have received many such gifts from time to time from others. Letting a visitor pick out a new dress is this family's way of sharing. Hitty Colleen apologized to Hitty Claire and both are friends once more.
Hitty Claire was carved by Judy Brown dollcarver@verizon.net
Postscript: It is twelve years ago this week that Hitty Robertson arrived and started her journal that very first day. Thank you dear readers for your interest and friendship through these years. It is truly appreciated. Esther