Chapter Two Hundred Forty Eight
Halloween is fast approaching. When we returned from our Canada trip we realized there were a limited number of days to get ready. Esther had started to make a little booklet of pictures about our various Halloweens over the past 12 years and they needed to be finished. We also wanted to check on our costumes and make sure of the correct date of Zelienople's Trick or Treat night.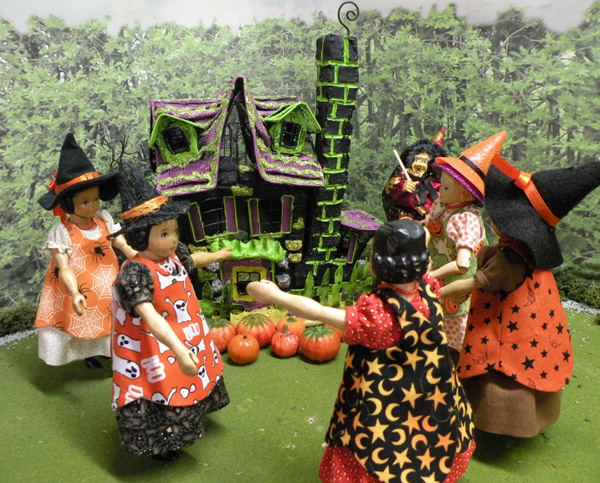 Before we left on our trip Esther had us pose in the backyard with our Halloween house. She wanted to have a least one picture in the book representing this year.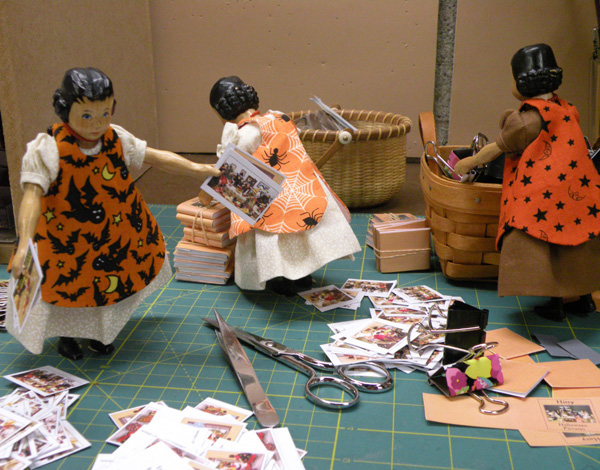 We did the best we could to help her make the books. She has to do all the cutting, gluing and assembling but we can at least help keep things in order.
When one of the first copies was finished we showed it to Grandma Alice. She has only been with us for one Halloween and was quite interested to see the pictures of years past.
After several days of work they finally were ready to be taken upstairs and prepared for mailing.
When all the books were packaged we relaxed and started our celebrating. Becassine and Grandma Alice had prepared many treats for us. They thought we would enjoy them before the holiday since we are always quite stuffed with candy after going Treat or Treating!
We wish all our readers and their Hittys a Happy Halloween!
Next Chapter or Return to Index