Chapter Two Hundred Fifty
We now know what all the anticipation and excitement has been about. It took a bit of explaining. There is now another doll family in residence here! It seems the Robertsons had been impressed with that strange dollhouse we had seen in Canada and decided to get one for when their great-granddaughters visit.
Different it truly is! It is to teach children to be environmentally aware. There are sliding walls, a wind turbine, a solar cell, a shade canopy and recycle bins. We Hittys found the differences between our house and this one very interesting.
Of primary importance was to meet the family. Hitty Colleen appointed herself as family ambassador and off she and a couple of my sisters went. They were greeted by the father, mother, a little girl and a little boy. The mother told them that grandparents would be living there also but were still traveling. They too are made of wood so already the two families have something in common.
The parents were very proud to show the recycling center. A bin for non-biodegradables, one for biodegradable material and another for recyclables. Hitty Helen was quite impressed.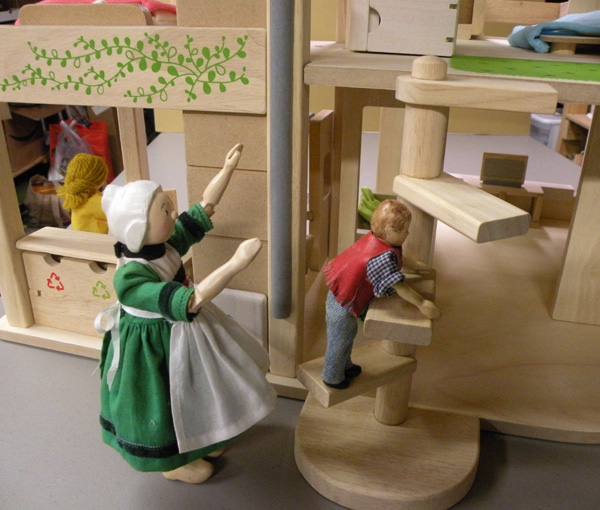 It wasn't long before we heard a commotion and found Michael trying to climb up the outdoor staircase! It is moveable and can be placed at any side of the house. Becassine hurried over to make sure he didn't fall.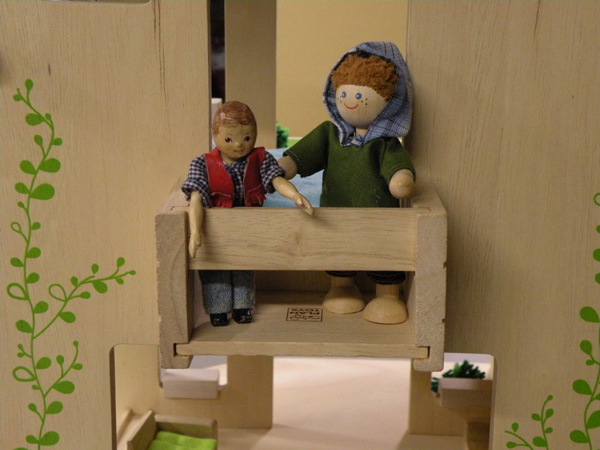 The little boy heard Michael and came to tell him there was really a more fun place than the stairs. He took Michael up to the balcony,which is his favorite place. He can survey his whole world from there!
Meanwhile Hitty Paige and HittyPat joined us and they tried out the furniture. I am not sure they found the living room sofa all that comfortable.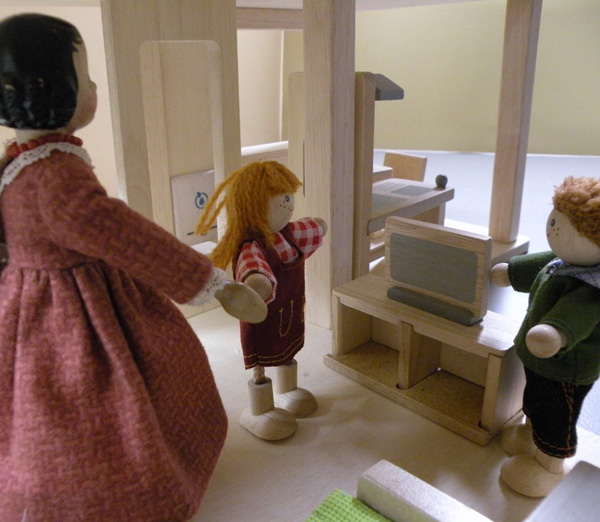 The family is quite friendly and invited us to look around their whole house. They said they would be delighted to answer any questions we might have. The children pointed out that they might have a different style house but they still had a TV!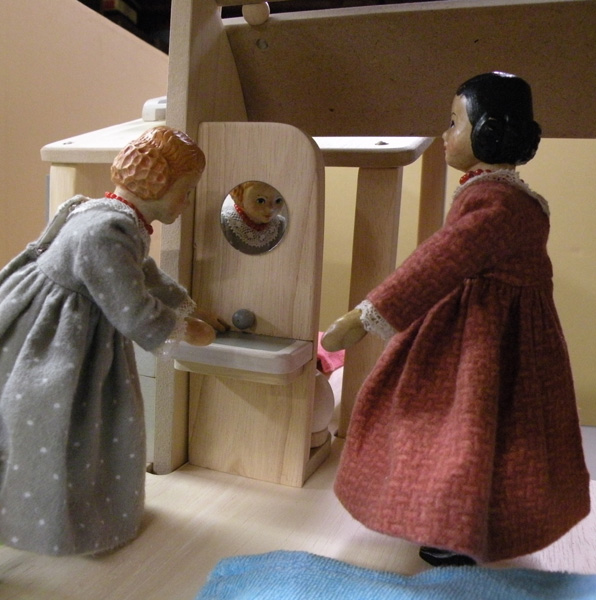 We took full advantage of their offer to look around. Ima was most interested in the upstairs vanity. She had never seen one quite like it.
It was certainly an interesting visit. I can't help thinking of how similar our situation is to the story in the book "The Doll People". In that book a family of antique china dolls and their house have been in residence for 100 years when an all plastic house and family of dolls arrive for the younger daughter of the current generation. Antique china meets modern plastic and the two doll families become friends! At least in this scenario we are all made of wood. I am not sure exactly where this house and family will be located in the people house but I do hope to be friends with them and have visits from time to time.
It is time now to plan our trip to Maryland for Thanksgiving as is our tradition, weather permitting. We are also looking forward to lunch with friends and that is always a treat!
We wish everyone safe travel and a HAPPY THANKSGIVING!
Postscript: The book referred to is "The Doll People" by Ann M. Martin & Laura Godwin - pictures by Brian Selznick - published by Hyperion Books for Children