Chapter Two Hundred Fifty-Two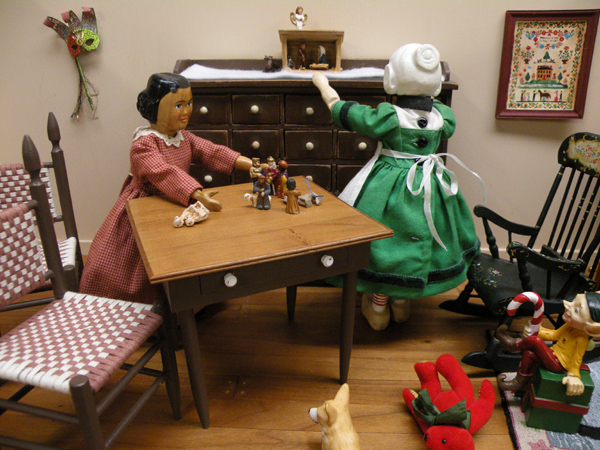 The holidays have come and gone and households are putting away the decorations. Here in our little town staying indoors is the order of the day. We were blessed with beautiful sunny days and dry roads over the past two weeks but now the bone chilling damp and cold has set in. I know it is too soon to expect spring but at least we can think about it.
We Hittys spent a lot of out time watching the visiting children get acquainted with that new doll family that moved in here. Everyone seems to have adjusted quite well. Then came New Year's Day and we knew Esther would be glued to the TV watching the football games and indeed she was.
We had hoped to have a visit from Hitty Moonbeam and her sisters but not only is the weather not great for travel, it seems the flu bug has taken over after invading her household in the state of Maryland.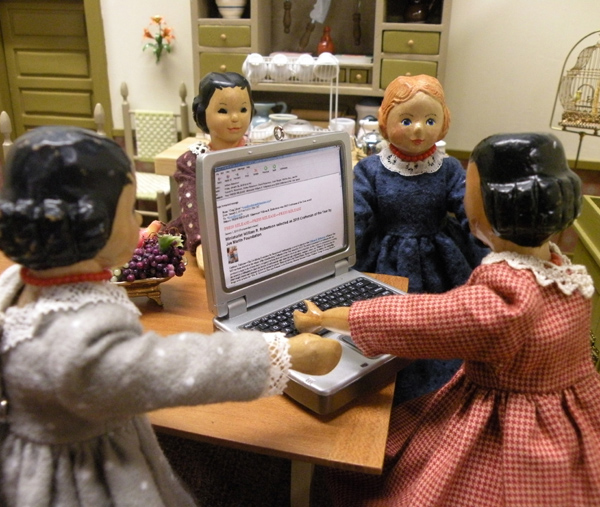 There was great news! I have mentioned the Robertson's son Bill before when he has made us Hittys gifts from time to time - items such as candlesticks, a pie crimper with the handle with the name Hitty, a meat cleaver and a miniature puzzle of us. This time the news is about him. He was named 'Craftsman of the Year' in a press release by the "Joe Martin Foundation"
http://www.CraftsmanshipMuseum.com/Robertson.htm
We are all very proud of him and will certainly take good care of the pieces he has made for us.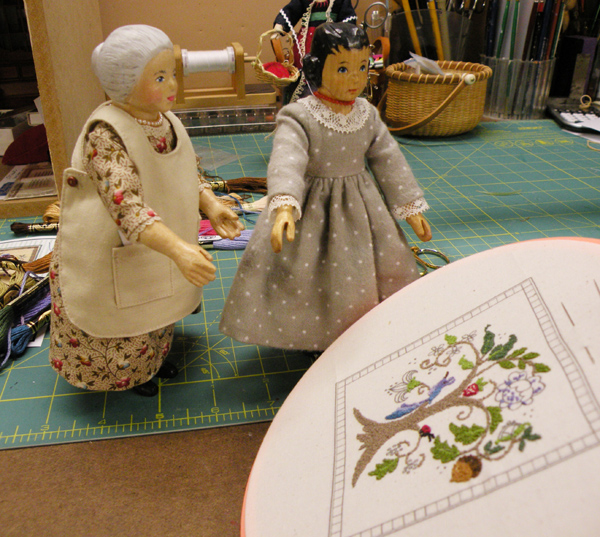 Winter projects are now in order and Esther has started another piece of needlework to decorate our library room. She really does like to make French knots!
We hope everyone had a wonderful time over holidays and we do so hope that all the Hitty families stay well and have a fun filled year. Onward to 2015!