Chapter Two Hundred Fifty-Four
It has been a long couple of weeks since I have taken the time to write a chapter. This cold, snowy winter has kept life at a slow pace and we mostly stay indoors, read, and work on projects. Once we reached the month of February life became more lively!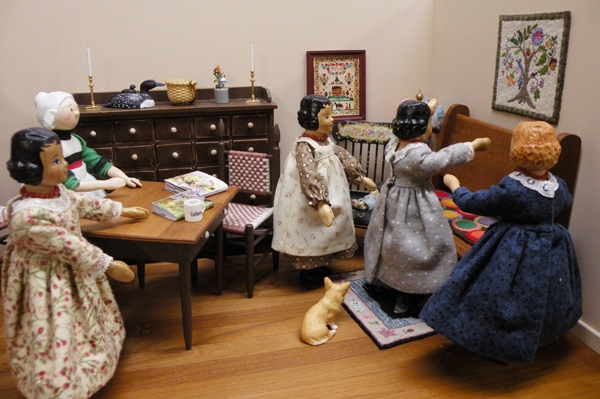 Esther finished another French knot project and we hung it on the wall in the library room. She enjoys doing these kits and we enjoy watching her.
The new wall hanging is called the Jacob Bean Tree. It is a knot work kit by Teresa Layman.
The first week in February the Robertson's son Bill arrived to celebrate Esther's birthday. And then Carol, Martha and that family of Hittys arrived! We had not had a visit from them for several months and oh we certainly had a lot of catching up to do.
There had been an addition to their family - Hitty Phyllis! We were delighted to meet her. When Carol saw her at a miniature show, she knew she had to join their family. Hitty Colleen and HittyBelle were the first to great her.
Hitty Moonbeam and her two sisters, Hitty Claire and Hitty Phyllis told us all about the miniature show they had attended. It was very thoughtful of them to bring us a gift - a beautiful bowl and platter that particularly pleased Grandma Alice.
It was so much fun having visitors. We have been shut-in so much of this winter and even though we are a big family of Hittys, we get lonely for company. An added treat was that our visitors could stay for Valentine's Day! We secretly made valentines the day before and had a great time exchanging them.
So I will close this chapter with the hope that all stay warm and safe. Spring will come!
Hitty Phyllis was carved by Judy Brown See her site on http://hittysplace.com
Next Chapter or Return to Index