Chapter Two Hundred Fifty-Five
We Hittys are surviving the winter. It has been so ugly and extremely cold that we have not even ventured out. We entertain ourselves with our toys, watching Esther at her workbench and enjoying each other's company.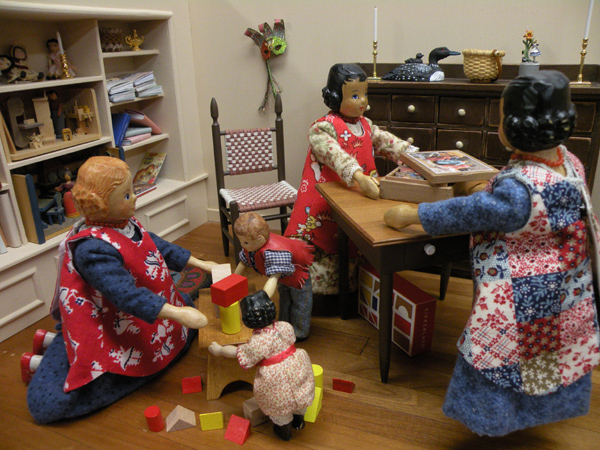 Our newest toy, a gift from our friend Hitty Jean, kept Michael and HittyPat busy for hours. Ima helped keep peace, as they would get upset when adding a block and the rest would fall over. We have all been through that scene.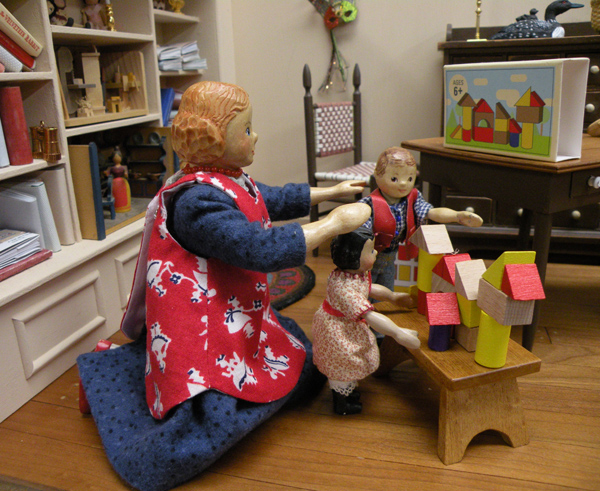 Oh how proud they were when they finally got them put together just like the picture on the box! I know it won't be long until Michael finds another way to stack them. Blocks do help one's creative abilities.
Even Grandma Alice and Becassine have not been their ambitious selves. It seems everyone is just coasting until Spring arrives. Instead of cooking dinner one evening Becassine had pizza delivered!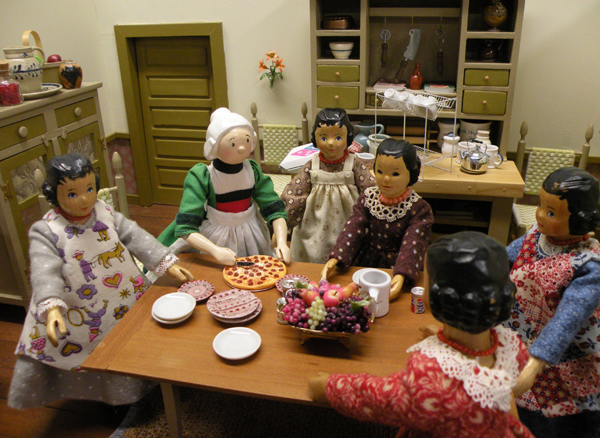 Having pizza is quite a treat at this house. Indeed having a treat did add a bit of cheer.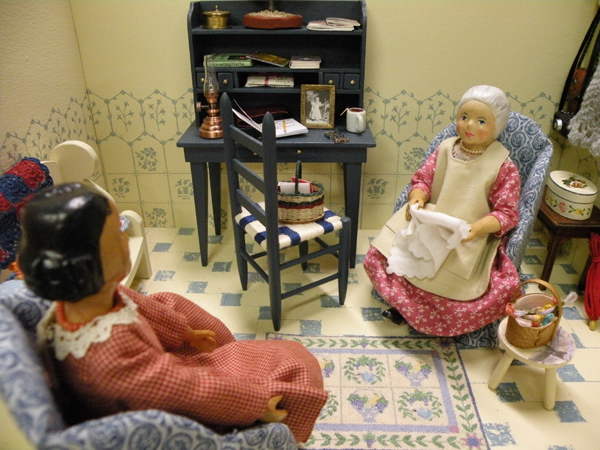 I visited with Grandma Alice in her room and we had a nice chat. Her favorite past-time is to do embroidery work. She said it relaxes her. Grandma has been with us now for two years. We both commented that the time has passed so quickly. We Hittys are so pleased to have her with us.
There just isn't much to write about in my Journal these days. I sit here and dream of Spring. I think most of the population in this north-eastern part of the county is doing likewise. There aren't even any tiny signs that this ugly weather will soon come to an end. I heard Esther say she longs to hear the sound of a bird. We did hear that they seem to be gathering in flocks down south to start their journal northward but I hope they don't get here too soon, everything is snow covered and there won't be a food supply.
Someday.............Spring will come!
Next Chapter or Return to Index