Chapter Two Hundred Sixty Four
The most exciting week has just passed! We joined a group of our Hitty friends in Virginia to attend the Tysons Miniature Show and a visit to Judy Brown's workshop. All the Hittys on the trip that had been created by Judy were ecstatic that they could go back to their 'roots' for a visit. Since I had been created by a different artist, I just stood back and watched the whole affair.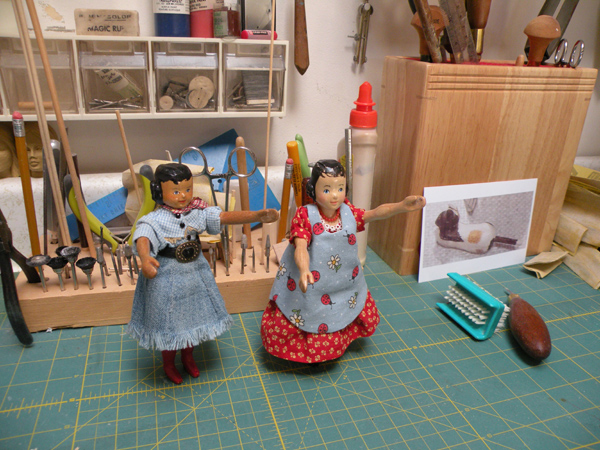 If I counted correctly there were well over 20 Hittys in attendance and they rushed right in when the resident Hittys, Dallas and O'Honey greeted them! There was so much to see that they didn't know where to begin. All of them had their start in life here but had little memory of the process.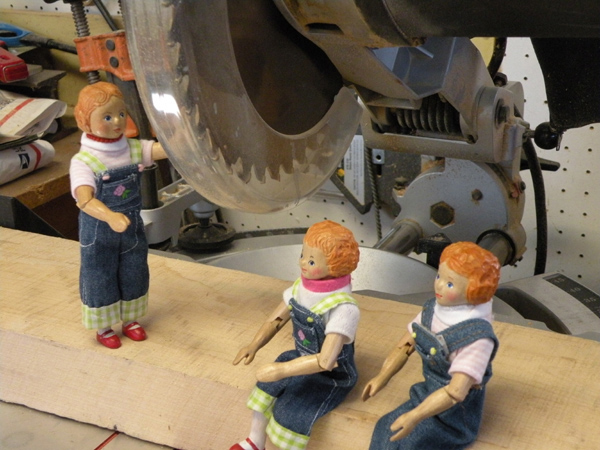 The three Imas checked out where the wood was prepared for cutting into blanks. Prior to that several Hittys had made their way to the wood stacks.
It was very good that all the power except for lights had been turned off as the Hittys even were touching saw blades!
A couple of the little Hittys found drill bits just their size. I think the larger equipment was a bit frightening to them.
The Hittys found parts everywhere they looked. These two found some blanks ready for the carving tools.
Another group found a pile of legs waiting for the carving knife!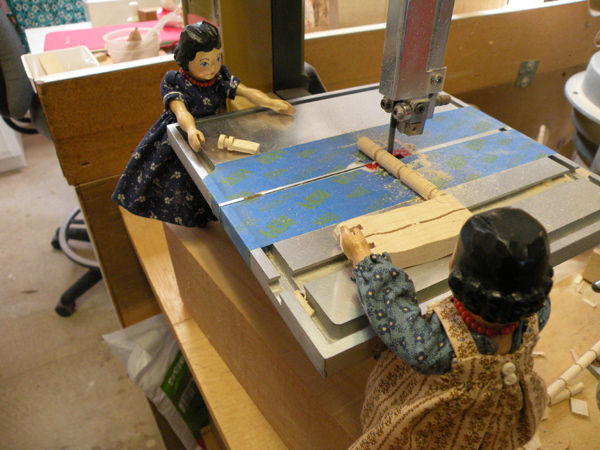 There were so many places to explore. They had not realized how many steps went into making a Hitty. I think this picture shows the beginning of arm joints.
There was another piece of equipment that also aroused curiosity but I don't think they ever figured it out. A couple of the others asked about the 'wood' in the bowl and were told that not all pieces make it into a Hitty.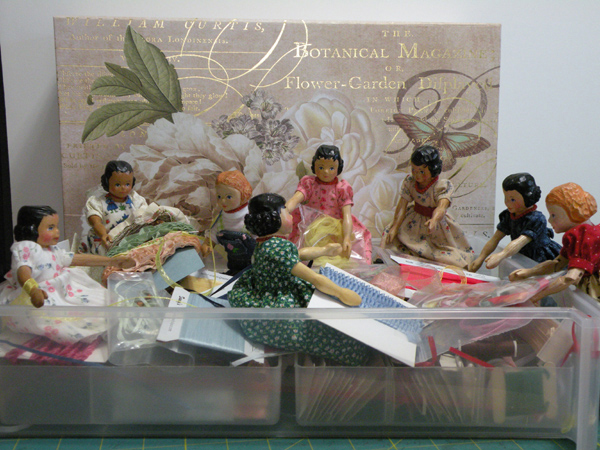 When the Hittys had examined every tool they could, Dallas told them they had another stop. She took them up to the sewing room as no Hitty leaves there without clothing. From what I could see, they 'attacked' the box of trims! You would have thought they were the ones that were getting new dresses.
Their last stop before checking out the shipping boxes was the sewing machine. Each fondly remembered what she had been wearing when she went to her new home.
The remaining days were spent shopping at the show and watching all our caretakers visit with one another. It was a wonderful, nostalgic time and we learned a lot about how Hittys are created. It was over all too soon and we all headed home to Canada, Massachusetts, Connecticut and Pennsylvania with dreams and plans of when we would see each other again.