Chapter Two Hundred Seventy
Christmas season is such a wonderful time of the year! This year we heard that 'Santa' would be at a tree farm just a couple of miles from here. We talked Esther and Russell into taking several of us to see it. It is a huge nursery selling mostly Christmas trees and shrubbery and was founded by one of Esther's cousins many years ago.
It was a cloudy day but not too cold - just perfect for this time of year. We hurried out to the back lot where Santa with a horse and wagon awaited us! This Santa was certainly a big jolly fellow with a booming "Ho ho ho". It was mid-week so the crowds of children that keep this place busy on week-ends were not present. We had never seen so many trees.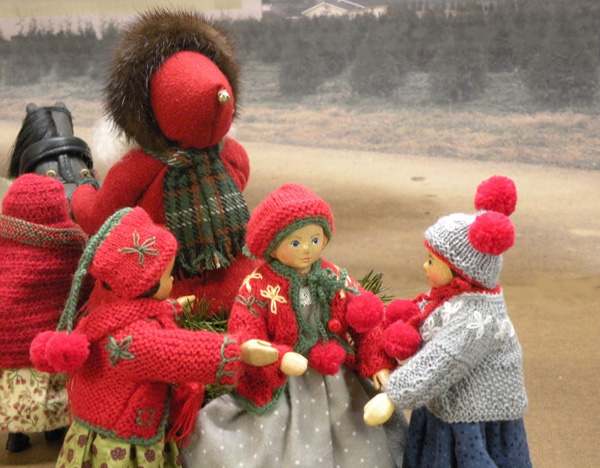 After being taken from lot to lot we headed back to the main barn. We had stopped and picked up some greens to use in our home decorations so had a very full wagon. Ima did manage to find enough space to ride.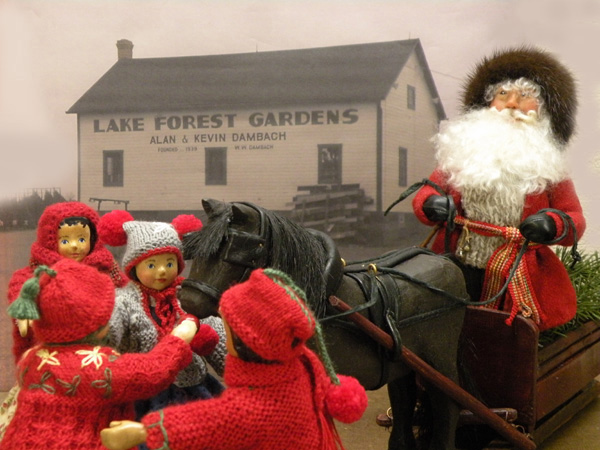 When we got back to the main barn, Santa handed us an apple and said we could feed it to the horse. He said giving the horse a treat was a of way of thanking him for our gentle ride. Oh what fun! We had never fed a horse before. In fact we had never even been that close to one.
We had a lot to tell the others when we got home. Michael was disappointed that he didn't get to see the horse but was assured he could go next time.
Meanwhile several of us had gotten our heads together trying to come up with a good reason to spend Christmas in our new vacation home. Just how to approach this subject, we just weren't sure. We knew that some pieces of furniture etc had been sent on ahead so it wouldn't be so empty and of course, everyone wanted to see that wonderful fabric Christmas tree!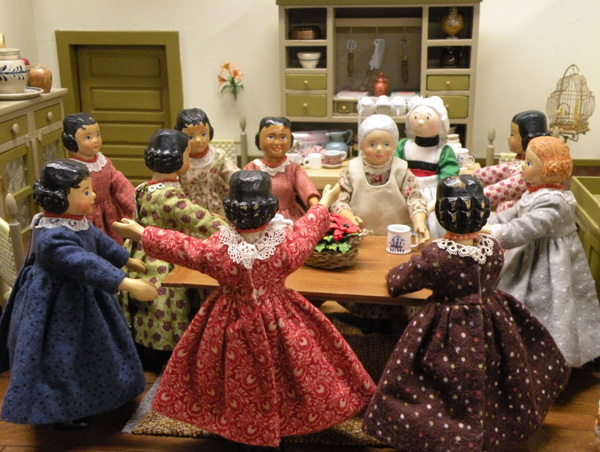 That evening, we gathered around the table and our begging met with success. We are going to go to the cabin!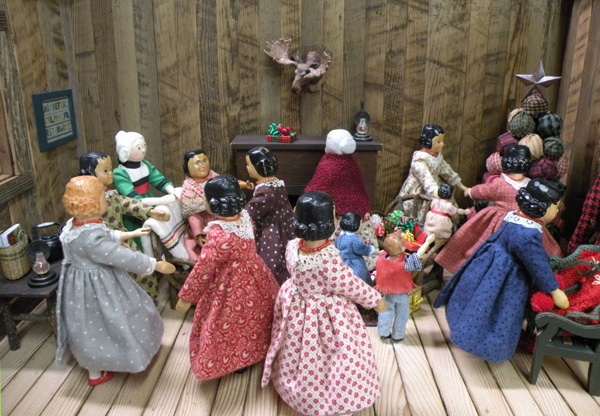 Oh what an exciting time! The furnishings that had been sent on ahead had arrived. We recognized our old lawn chairs and a rug that had been rolled up in the attic. We lit a fire and off came our sweaters as soon as it started to get warm. The little ones were so excited as were my sisters who had not seen it previously. We brought our Christmas presents with us and are truly looking forward to spending the holiday here as well as many times in the future.
We wish all our readers a very MERRY CHRISTMAS AND A HAPPY NEW YEAR!
Next Chapter or Return to Index