Chapter Two Hundred Seventy One
The holidays have come and gone. We enjoyed our time at the cabin, returned home for the New Year but soon gathered more things together and went back. Becassine stayed home for a little peace and quiet, however, she did send along a basket of cookies for our snacks. She is always so thoughtful.
Each trip we bring items to make the cabin more cozy. We are looking forward to all the different seasons. So far, the skis and snow shoes have not been used. The weather has been cold and the fireplace is much appreciated but there has been nothing more than a snow flurry now and then. Ima and Michael made sure we had plenty of wood to keep us warm.
Grandma Alice insisted that the Jacob Bean wall-hanging would be more appropriate here at the cabin than at home in the library so she supervised its placement. I must agree, it does look quite handsome on that rustic wall.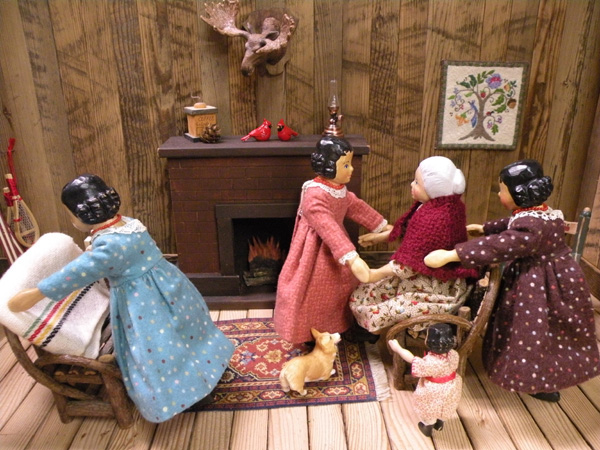 We like to make sure Grandma Alice is comfortable and so insist she always bring a shawl. We remind her that she is not 'old' but a senior citizen! She has given us no trouble about it. She says she loves just watching us make the cabin a home.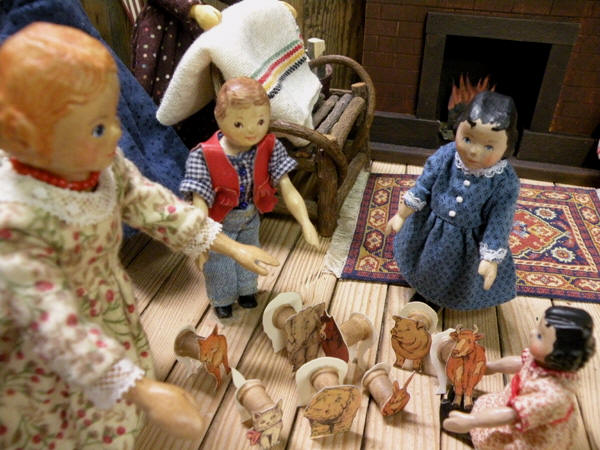 This time we also brought along an indoor toy for the little ones. They are called spool animals and they had such fun playing with them. The animals, fronts and backs, are cut out of paper and glued to each end of a spool. Toys like this are from yesteryear.
Furnishing and decorating the cabin is such fun and we look forward to finding just the right things to make us comfortable. A Hudson Bay blanket and a pair of cardinals for the mantel sent to us by friends are indeed perfect and truly welcome! Thank you!
Next Chapter or Return to Index