Chapter Two Hundred Seventy Five
Happiness in a big box! Miss Carol's Music Academy for Hittys is here and open for business. It has been named after our own Hitty Carol and we are thrilled. We have known for some time that Hitty Carol was talented at the piano but had no idea that she would be asked to teach, let alone have a studio bearing her name.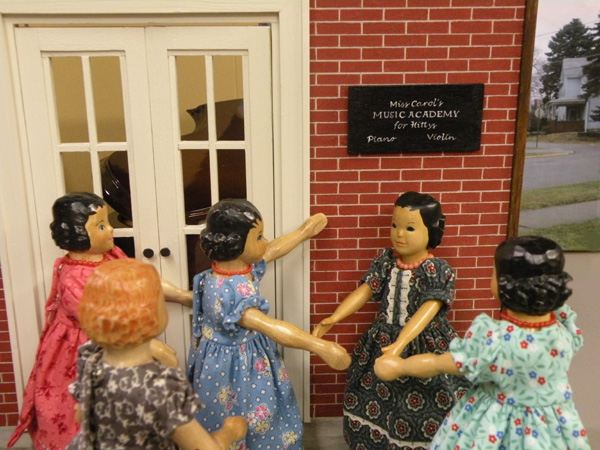 Our first visit was so exciting! It is a one story brick structure with two rooms. Hitty Carol stood proudly beneath the sign making sure we all took note of her name!
Of course, we went to the music room first. It is a lovely room with French doors and beautiful hand painted designs on each wall. There was also a selection of various stringed instruments. Hitty Carol immediately sat down to play.
It wasn't long until Hitty Colleen insisted that she have a turn at playing the piano. Hitty Carol was very tactful when offering suggestions.
In the other room, Esther was pleased to finally have a good home for our Dutch baby house. HittyBelle looked at it carefully to make sure all the pieces had survived the move. This room also has a lovely hand painted border at the top of the room. Grandma Alice suggested it might look good to hang a picture on the wall. We will give this some thought.
As we were leaving, Ima noticed there was a planter along the front wall. When the weather gets warmer and spring finally does arrive, we can plant some nice greens or flowers to fill it.
I am sure this new studio will offer us much pleasure as we spend time there. Perhaps Hitty Carol can teach us all to play the piano and maybe some of us may even try the violin!
Postscript: "Miss Carol's Music Academy" was created by "Art to Play With" http://www.hittysplace.com
Next Chapter or Return to Index