Chapter Two Hundred Eighty Two
Every time the cabin has been mentioned lately Becassine reminds us that she has never been there and really would like to see it. She has always remained at home to take care of those not making the trip, so we planned a few days at the cabin to show her everything. Becassine, true to her nature, packed a picnic basket with goodies and off we went.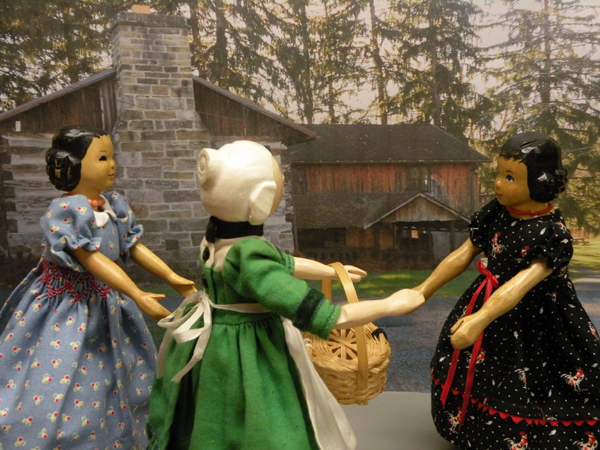 She was so excited and so were we. It is always fun to see the look on someone's face at their first sight of the cabin and all it's decorations. She could hardly wait to go inside.
The first thing Ima pointed out was the moose head over the fireplace. Becassine didnít remember ever seeing a moose and frankly, except for that one, I have never seen one either.
She looked around with a look of approval. She spotted the Hudson Bay blanket and was quite pleased with it. She also was glad to see the wall hangings and she chuckled at the fish yardstick.
All Michael talked about on our way to the cabin was fishing. He wanted so badly to go fishing. We all agreed that he could not go alone so Hitty Sue changed into jeans and took him to the nearby creek. We all hoped he would not catch anything that we would have to clean!
The weather was so lovely that a couple of my sisters decided to take a walk. It is a wooded area with cabins here and there and a few shops selling hand made crafts. The one the Hittys liked the best was the 'Wool Shop'
and they were delighted that it was open.
Most of the items in the shop were made of wool but not in Hitty size. There were items, however, that did interest them. It is quite difficult for Hittys to go into almost any kind of shop without seeing something they just have to have. This shop visit was no exception. We have been collecting little teddy bears and my sisters added to our collection!
All in all our couple days at the cabin was a pleasant experience. Becassine was satisfied that she had gotten to see it. We were relieved that Michael took his disappointment about not catching a fish well and we came home with a new little teddy bear. Our vacation cabin is living up to all we had hoped it would.
Postscript: The little bear was a gift the Hittys received in the mail and they thank you!