Chapter Two Hundred Eighty Six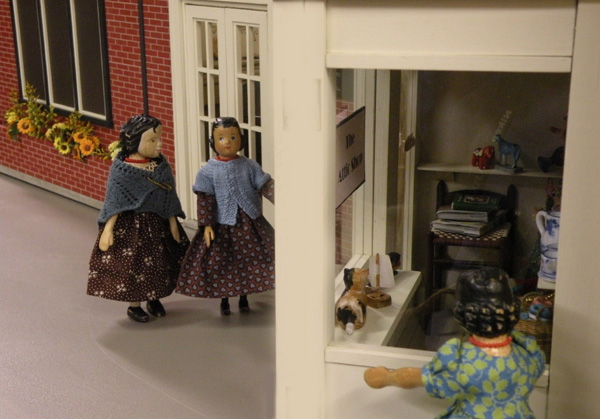 We are sitting around this morning a bit sad and yet with smiles on our faces because our friends went home. Hitty Jean, Hitty Sparrow, Great Aunt Doll and a few more of the Hitty family from Boston spent the week-end with us and we had so much fun! We spent most of our time helping to set up our new shop.
It has been so exciting hearing how different each Hitty family has set up the little shops we all received at our visit to Quebec. So far we have heard of a yarn shop, dress shop, consignment shop, holiday shop and a beach house. We decided that ours would be The Attic Shop! Many things in an attic are still in excellent condition and all they need is another good home.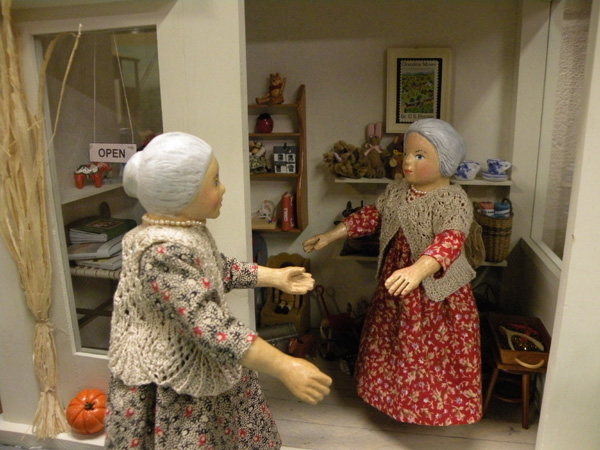 Grandma Alice and Great Aunt Doll were a big help in selecting things and placing them to their best advantage. Oh I do think this shop is going to be so much fun!
We also had time to enjoy a visit to the Music Studio. Hitty Carol played some familiar songs for us. Hitty Jean was particularly interested and I suspect she now wants to take piano lessons!
Hitty Club met on the last day of the visit and oh what fun. We had Hittys everywhere. The theme was Halloween and the project was visiting! The Boston Hittys had visited the club several years ago and all were delighted to see them again.
Now that everyone has gone, we will get serious about getting ready for Trick or Treat night. We love dressing in our Halloween attire. Hope everyone has a good time with lots of little faces showing up at their door.
Happy Halloween