Chapter Two Hundred Eighty Eight
This is certainly the busiest time of the year at this house. There are so many things to do to get ready for Christmas. Grandma Alice, Becassine and I did most of the food preparation while my sisters took care of decorations in the other rooms.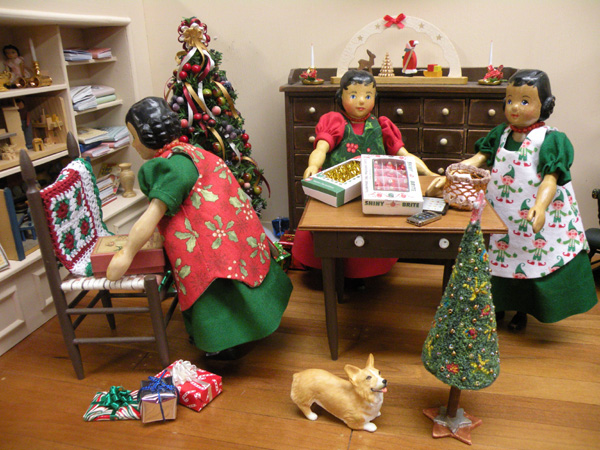 Hittys Kate, Helen and Sue were in charge of the library room. Part of the fun is getting out our traditional decorations and unpacking new ones.
There were decorations of some sort just about everywhere.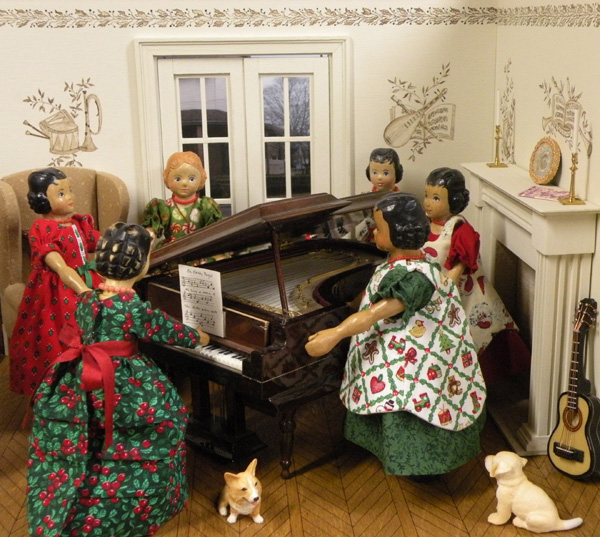 While we were doing our decorating we did take time to enjoy Christmas music. Hitty Carol is always delighted to play the piano and we love to sing our favorite carols.
When the decorating was finished, Hitty Helen and Hitty Missy took a walk in the snow. They visited The Attic Shop and enjoyed window shopping.
This year we are spending the holidays at home but we did have a chance to take a short trip to the cabin. Even though we knew Santa would not be making a stop there this year, we still hung up some stockings. We always love spending time in the cabinís cozy atmosphere no matter what the season!!
I will close this chapter with good wishes from the Robertson Hittys and Robertson family that all our readers have a very Merry Christmas and a Happy New year!
Next Chapter or Return to Index