Chapter Twenty Nine
We have been wanting to actually go inside Twin Manor and we finally got the opportunity. It has been a wonderful experience and I will try to tell you about it. Twin Manor is Esther's miniature house and it gets its name because there are two of them. Its twin is on permanent display at the Toy & Miniature Museum of Kansas City, MO. Both houses were built by the Robertson's son William in the 1980s. The 1/12th scale hand crafted buildings are identical and each is furnished in 18th century style reflecting the taste of the owner. This chapter will take you inside and show you some wonderful perfect scale pieces. HittyBelle and I had to be very careful as we are larger in scale.
As we start our tour I want to explain that all the work in the house has been done by various artists in the field of miniatures and all pieces and styles are replications of existing items and rooms. The entire house is furnished in the 18th century style which is Esther's favorite.
First we entered the front hallway which combines the architecture of Tulip Hill in MD and The Lindens, first of Danvers, MA and moved to Washington, DC. It is decorated with hand painted wallpaper and a corner cupboard with a matched set of Imari bowls made especially for Twin Manors. Nine different sizes of balusters are found in the nearly 1,000 piece stairway. A tall case clock stands on the landing.
Since we were in the hallway and Esther was telling us details about it we decided to also go look at the upstairs hallway. There sat her favorite piece of furniture in the whole house! The Rhode Island card table made by her son is an exact replica of the table that sits in the Robertson's living room. I loved the little five finger vase sitting on it.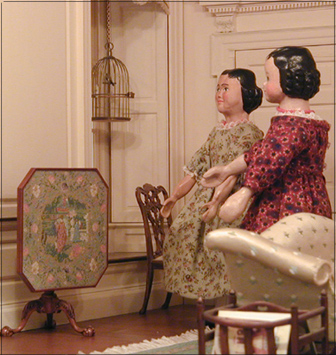 We stopped to admire the tilt-top Chippendale games table in the Drawing Room. Esther stitched the needlepoint top on 60 mesh silk gauze using silk sewing thread. The center scene was copied from an Italian tapestry and the floral border is her own design. There are a total of 33,000 stitches that make up the nine square inches. She made two of them! HittyBelle and I just couldn't imagine the work involved. She told us that when it came time for her son to cut the work from its frame and mount it, she left the house! She didn't want to hear if he made any gasping sounds. Her son carved the fine detailed woodwork of the table out of Swiss pear wood.
HittyBelle wanted to see the dining room next. She remembered having looked in the window and wanted to see the furnishings up close. So did I. We saw the table set with real china, sterling silver and hand blown crystal. We both admired all the little Meissen and Chelsea soup tureens in the cupboards. Esther told us that they all actually do open! Then we had a delightful surprise. Hanging above the antique sideboard was an oil painting of Esther. She explained that she was much younger when it was painted and she had had it painted in the style of John Singleton Copley. We both thought it a lovely painting. She also explained that the sideboard was one of only two pieces of furniture in the house that are actually antiques. All the other pieces have been made by current miniature artists.
We wanted to visit all the rooms in the front of the house so she took us up to the master bedroom. This was a room I particularly wanted to see since she had told me at the time of my birthday that my dress was made from a piece of the fabric she had saved from Twin Manor. And sure enough, all the bed hangings were the identical fabric. It really made the dress more meaningful to me. I must say though HittyBelle was her usual curious self and wanted to look in the linen closet. She seems to find a doorway everywhere we go!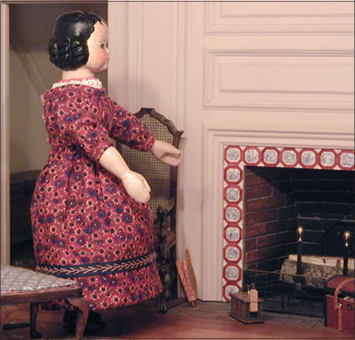 Across the hall from the master bedroom is a sitting room called the Rose Room. It was used for reading, knitting and perhaps afternoon tea. HittyBelle spotted an unusual item immediately and we both became very interested as to what it was. There on the floor in front of the fireplace was a small box-like object with a little door. Esther explained that no matter how lovely a home was back in the 18th century, they all had to deal with mice. In this elegant house one could not have an ordinary mousetrap. This one was made in the Hepplewhite style. We did not see any mice but she did tell us that hidden somewhere for people visitors to discover is a small porcelain mouse.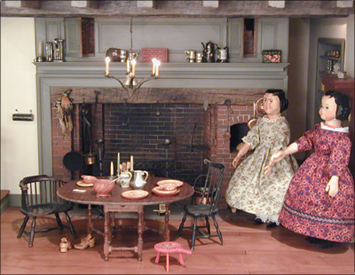 Now we had seen all the rooms on the front and moved around to the back and the first one to catch our eye was the kitchen. Actually I only guessed that it was a kitchen. It was so very different from the toy kitchen we have. I think if the original Hitty could see it she would recognize it because it was in the style of an old New England house which of course was the same as the Preble house. The fireplace seemed huge to us even though it was in a smaller scale. The room looked so warm and inviting we almost didn't want to leave
Immediately outside the kitchen door were some strange looking containers. HittyBelle noticed them first. They were firebuckets and made of leather. In the days that this house represents firebuckets were always hung near the kitchen so they could be reached quickly in case of a fire. Inside each bucket was a tiny burlap bag. Small items such as silverware or jewelry would be put into the bags and then tossed out upon the lawn. This way those valuable items didn't get scattered. The buckets were then filled with water to control the fire. It seems rather frightening to me especially anything to do with the burning of wood.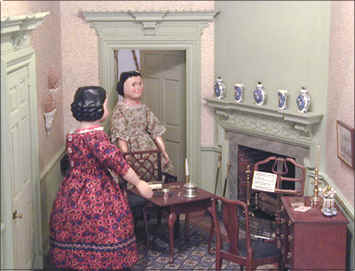 Near the back hallway where the buckets were hanging was a room called the Morning Room. A house such as this would have had many servants and the overseer would be expected to come into that room each morning to receive his orders for the day. It also served as the room where accounts were kept and for relaxation the owner could practice music. We were curious about the beautiful set of porcelain vases on the mantel. Esther told us the set was called a garniture. We had not heard that word before so she explained. Garnitures were decorative vases displayed in finely appointed homes and always had an odd number of pieces anywhere from three to nine. This set was beautiful Delft blue.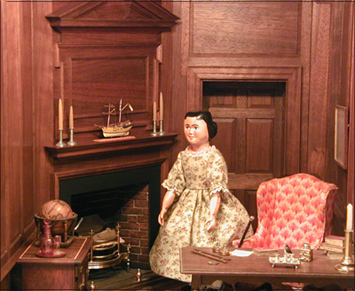 The room next to this one was the gentleman of the house's study and could only be entered from the Drawing Room. It was made of the most beautiful hand rubbed walnut I have ever seen. Of course I was fascinated with it as we Hittys are made of wood. There even was a wooden globe of the way the world was thought to be at that time. On the mantel was a tiny sail boat strung with human hair that one had to look very closely to see. This room has such a masculine feel to it.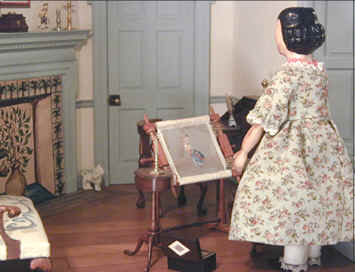 What a contrast! We went upstairs again and the next item we looked at was a needlework frame with an example of the 60 silk gauze Esther had used on the games table. It was only partially finished so one could see the size of the tiny holes. It is hard to believe that work that small is done today not alone years ago when they didn't have items such as lighted magnifying glasses and only candle light to see by at night. I did notice, however, that it sat next to a window which I am sure was necessary in order to make use of the daylight hours. This room was the lady of the house's private sitting room and also had a small writing desk for her use.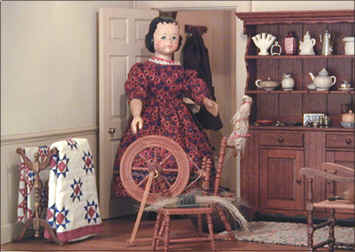 HittyBelle wandered into a small storage room and found a spinning wheel. This one was showing how it was used to spin flax. There were quilts on the quilt rack and we questioned Esther as to how could one sew a quilt so small. We have quilts in our rooms but the pieces, albeit small, can be sewed together. She told us these quilts were made using fabric paint applied with a toothpick! We both found that amazing. Well, really we were being exposed to many things we found unbelievable.
We then asked if there were any children's rooms in the house and Esther said that the house had a back bedroom that portrayed a room such as a young girl would have had. It was a small room with really only a few toys and quite different from the ones we have. There was a straw doll plus a small wooden doll sitting at a little table with the tiniest tea set I have ever seen. Dolls made of wood were popular in those days and we certainly owe our existence to one!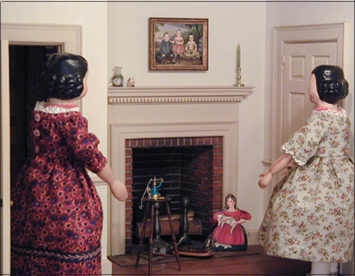 We noticed a different kind of doll-like creature across the room in front of the fireplace. It was a figure of a young girl holding a lamb and was made of a flat piece of wood. It was called a silent companion to make believe there was a playmate in the room, however, its main purpose was to deflect the heat from the fireplace in the direction one wanted it to go. The strange looking item on the stand was a snake taper jack candlestick with the wick curled up near the bottom. Strange looking object I must say.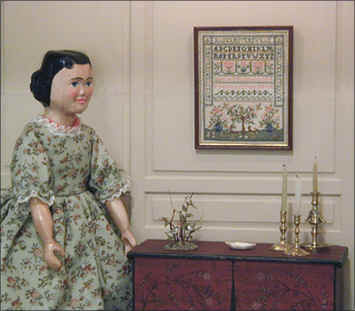 At our last stop we admired a group of brass candlesticks sitting on a blanket chest along with a figurine of tiny little blue birds. They were so delicate! One of the candlesticks had a bell that really did move back and forth. Above the chest was a miniature version of "The Chasd" sampler. The original sampler is in the Colonial Williamsburg collection and had been stitched by eleven year old Mary Starker in 1760. When one looks closely at the samplers from that era I find it hard to imagine how Phebe Preble and Little Thankful could have been capable of such work at their tender ages.
Our visit of Twin Manor was over and we had enjoyed hearing all the stories and background of some of the pieces. This miniature house reflects a way of genteel life in the 18th century and every effort had been made to make it authentic. Esther told us that it is the result of more than 10 years work and that of many of today's best artists working in miniature are represented. I know there were many items we didn't take time to look and learn about but perhaps someday we will go through it again. HittyBelle and I will surely look forward to that day.
Next Chapter or Return to Beginning