Chapter Thirty One
For weeks there was such a feeling of excitement in the air. We were making preparations for a trip to Kansas City to celebrate the opening of the new wing of the Toy & Miniature Museum. HittyBelle and I just couldn't decide what to wear. Esther couldn't decide whether to take HittyPat along or not. I just wasn't sure exactly how we Hittys would fit into the whole program. There were so many conversations about all the festivities but I didn't hear Hittys mentioned in any of them.
The Robertson's son Bill has been involved with helping to design the new part. The museum was founded by their friend Barbara and it houses the finest collection of miniatures in the world. Barbara is Esther's friend that first introduced her to Hitty so to me she is very special.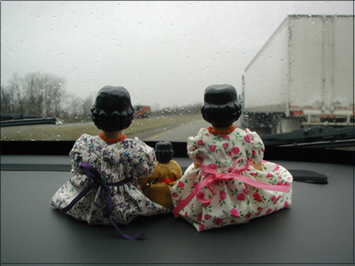 We traveled by car and took three days to get there. Of course, we could have gotten there in two I suppose but Russell doesn't like to drive very far in any one day and they wanted to stop in Illinois to have dinner one evening with some friends. The driving conditions were not the best. It rained off and on the whole first day and then quite heavy the third day. Also, I never saw so many trucks!
Their friends Harriett and Byron were also driving and they kept in touch by using cell phones. This is certainly an age of electronics that would be strange to the original Hitty! She might not have even had a telephone in the house. We stopped several times at "The Cracker Barrel" and we Hittys even got to get out of our travel case and look at some of the interesting items.
When we got to Kansas City I could tell that there was so much excitement but we Hittys just had to use our imagination for some of it. Esther and Russell kept coming and going but Saturday evening when they came back from the banquet they said we could have the souvenirs. The decorations for the tables at the banquet centered around the theme of the Harley-Davidson motorcycle since this is their anniversary year and the souvenirs were tiny vehicles. We had time to play with ours on the desk at the hotel.
We were delighted to finally get to see the museum that we had heard so very much about. It is absolutely wonderful! Spring had already arrived in Kansas City so the weather was perfect for taking outdoor pictures. When we went inside some of the staff asked to see us and of course, that made us feel special. The first Hitty that Esther had seen that day two years ago when she first heard of Hittys was in a case very near the front of the museum. We stopped to look at her but really couldn't visit since she was on display and couldn't be disturbed.
Barbara suggested we get our picture taken in the French Room and so HittyBelle and HittyPat were quite willing. They picked out a case with a beautiful delicate table and both posed for the picture. I enjoyed just watching.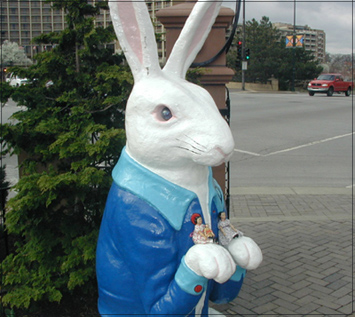 Kansas City is a lovely city and was decorated for Easter. We took a drive around several areas on our last morning and had our picture taken with one of the Easter bunny figures and also a kangaroo. HittyPat was a bit frightened at sitting in the kangaroo's pouch but we told her it was just a statue. She didn't mind sitting on the paws of the Easter bunny. Perhaps she thought he looked friendlier.
After a long drive home we were all quite tired but happy and have many wonderful memories. Now there is much to do to get ready to attend a Hitty Tea at IGMA Guild Show in New York at the end of this month. We are looking forward to seeing our friends again and so is Esther.
Next Chapter or Return to Beginning