Chapter Thirty Two
Our Easter holiday wasn't what we had expected! There was a delightful surprise! We have a new sister and she was a gift to Esther from her daughter Carol who herself was born on an Easter morning. Esther is thrilled! We were about to examine our Easter baskets when we were introduced to her.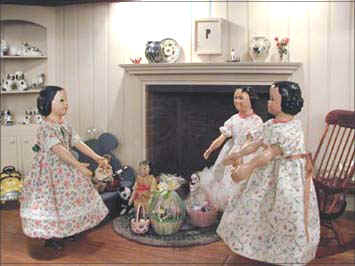 She has beautiful delicate features but we soon learned it belied her adventurous personality! She had quite an interesting story to tell us about how she came to be our sister and with the name Hitty Carol.
It all started last January when Esther told her daughter she was thinking about getting a Jean Lotz Hitty. Carol started emailing Jean immediately but swore her to absolute secrecy. It wasn't until March that Esther placed an order and Jean certainly had to be careful with the wording of any contact she had with Esther. I must explain at this point that Carol is a complete novice when it comes to dolls, having given all her childhood dolls away at age nine and preferring a catcher's mitt instead!
An example of Carol's lack of knowledge of artist dolls happened when Hitty #C arrived at her home. Carol thought she had been damaged in shipping and emailed Jean to ask what product to use for the repair. Well, you can imagine how quickly Jean responded and told her that that was a characteristic of the distressed look of a Lotz Hitty! Carol was learning.
Hitty #C arrived at Carol's home a week before her trip here to Zelienople and was by no means a shrinking violet in the time she spent there.
At this point I will let Carol tell you about that week with excerpts from the following narrative titled "A New Life for Hitty C" written by her and presented to her mother along with the doll.
"Hitty C was beautifully and lovingly created to be a special gift to my mother. Since I have not owned a doll for many years, having Hitty C stay here with me this past next week has proven to be more interesting than I could ever have imagined."
"Upon her arrival and thorough examination, I decided that this doll was very delicate, and if she was going to have the same adventures as the other Hittys currently residing with Mom, she would need substantially stronger travel gear. Those Hittys travel in a little Vera Bradley bag."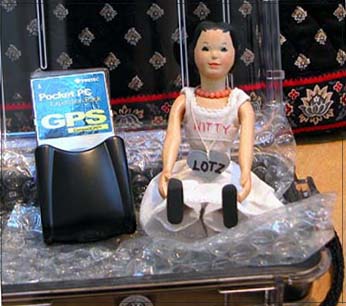 "Hitty C thought she might take over the Pelican Micro Case that I normally use to transport my GPS CF card that attaches to my Pocket PC. Pelican cases are water and shatter-proof as one could drop it off a bridge or run over it with a truck and the contents would still be safe. She was wondering if I could find a case large enough for her to play with my Global Positioning Satellite system as well as carry herself."
'I explained that the smaller the case the safer she would be. She agreed and thought we might also find a Vera Bradley bag to carry her Pelican case so she would at least look the same on the outside as the other Hittys."
"while we were fitting her new travel case, she talked a little bit about her trip to get here. Since she was wearing only her underwear and carried no luggage, she had a very easy time getting through airport security. After the swabbing, x-raying, and a laser scan of her necklace she made it through the checkpoint in only two hours!"
"Since she was traveling during Spring Break, there were very long lines everywhere so she decided to find a book to read. Perusing the available titles in the bookstore, she decided that perhaps 'Moby Dick' was not a suitable title for a young girl, so she chose the 'Mists of Avalon' instead. She was fascinated by the jeweled sword, Excalibur, that emerged from the lake and wanted to know if she could have one like it. I told her that such an item probably wouldn't match the decor of her new home, and might possibly scare the other Hittys who already lived there."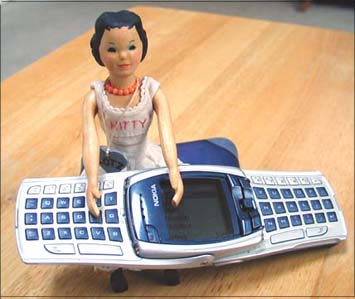 "She has been sitting here in my office playing with my cell phone. She loves opening it up wide so she can push the letters and pretend she is sending email."
"Today, Hitty C started exploring our house while I was away at work. Apparently our dog was not able to stop her from getting into mischief."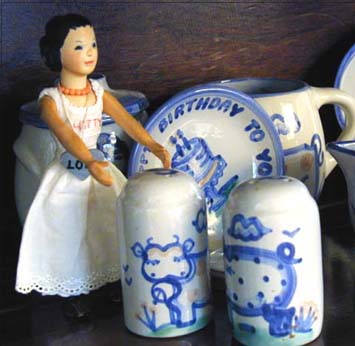 "She found her way into the dish cabinet but was careful not to break anything, I think!"
"She found my shop and played with my tools."
"She played my guitar,
and she found my extensive collection of sheet music and played my piano."
"Hitty C has had no trouble connecting with the people in our neighborhood. The fact that she is socializing in her underwear has helped rather than hinder her ability to make friends. At first, Bob the Builder was somewhat distracted by her unexpected presence."
"Culture can play an important role in a young girl's life, so I was thinking that perhaps I should prepare Hitty C for the world of art and music as she was certain to visit the nearby art gallery."
"I did my best to explain to Hitty C that paintings can often tell different stories depending upon the mindset of the person who is looking at them. Since the painters are long gone they cannot answer to us exactly about all the things they wanted to point out in their pictures. Since I myself have never really studied art, I decided that for the time being I would be safe in redirecting her art appreciation to the paintings of Mistral, so beautifully portrayed in the Judith Kranz novel and movie, 'Mistral's Daughter', until someone with more knowledge than myself could properly channel her art appreciation."
"I was hoping to have better luck teaching her about music. We had talked about how much I liked to listen to polkas and waltzes, and how much my children had enjoyed the singing of Alan Sherman and Weird Al Yankovich. She said her favorite singer was Oscar the Grouch on Sesame Street because he sings that nice Grouch's Lullaby and waltzed from his trash can when sang the 'I Love Trash' song."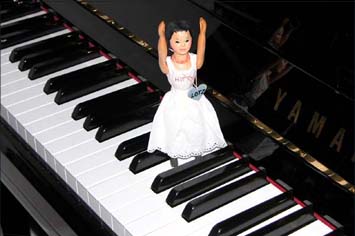 "Next thing I knew, she had climbed up and turned on the Disklavier player piano and started dancing on the keys as they moved up and down!"
"I wonder how Mom is going to cope with this younger generation."
"Easter can be interesting to explain to a doll. I mentioned that since time began, people celebrated the birth and renewal of the circle of life. This was not a hard concept as she was standing on dead leaves admiring the beautiful flowers that were blooming all around the yard."
"As for the religious explanation, considering my experience with showing her the painting of the Last Supper, I decided it would be easier to just take her along with me to Quaker Meeting. Since we participate in silent worship in a simply furnished meeting room, I figured she was less likely to pick up verbal or visual concepts that might interfere with her spiritual growth. However, she did mention that she was looking forward to the Easter egg hunt."
"I told her that she would be in a different town on Easter, and that in her new neighborhood, the children dyed their eggs many different pretty colors. She was excited about this as Quaker children's parents often can't decide what color is more plain -white or brown. I did mention, however, that she would be missing the local Easter egg hunt on the White House lawn, where they have wooden eggs signed by the President and his wife. She said that was all right with her as she would just as soon wait until a Democrat got elected to sign her eggs!"
"Before long, I found her in the kitchen about to microwave a peep to see how big it would get!"
"Today as Hitty C awakens, she puts her elbows upon the window sill of Heaven and looks out to her future as a little ambassador of love in her new home. I think she is up to it!"

Now that you have read the above you can understand that there will be a period of adjustment as Hitty Carol adapts to life with us here in our home. HittyBelle, HittyPat and I will do our best to make her feel welcome. I am so glad Esther decided that I was not to remain an only Hitty.
I also explained to my new sister that we Hittys help Esther from time to time and that currently we were helping her pack the sampler favors for the Hitty Tea at the IGMA Guild Show in Rye, NY near the end of April. She was delighted to get started being a member of our family.
Next Chapter or Return to Beginning