Chapter Forty Two
On the day before Thanksgiving we traveled to Maryland for the big feast. Our trip was not very pleasant because it rained the entire way, the fog made visibility difficult and the traffic was very heavy, however, we did arrive safely. I heard Russell say he was grateful that the temperature remained above freezing so he didn't have to worry about ice on the road.
Thanksgiving morning dawned clear and cold and everyone looked forward to the dinner. I explained to my Hitty sisters that I had looked at one of those cooked turkeys up close two years ago and that it really wouldn't appeal to them. There was such a fuss made over what dishes are traditional and who was going to make them but it really didn't matter to us since Hittys don't actually eat real food.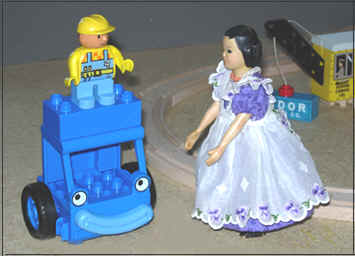 Hitty Carol spoke up immediately as she recognized this as the place where her life in the family had started. She was anxious to get reacquainted with Bob the Builder and went off to meet him. He seemed quite pleased to see her again.
This is also where there are many toys for the two little fellows Ben and Will and so we Hittys decided to play while the adults enjoyed their meal. First we played with the train set. HittyPat wanted to be the one to turn on the power. She enjoyed doing this until she realized she couldn't ride and turn the switch at the same time.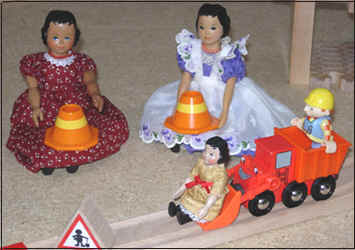 She asked Bob the Builder to take her for a ride and he graciously complied. HittyPat wanted to ride in each car but we told her she had to make a choice and be happy with just one or two cars. I think she enjoyed riding in the front loader car the best. HittyBelle and Hitty Carol watched as she rode round and round.
We looked across the room and discovered a strange table. At first I wasn't sure that I wanted to go near but then I realized the bugs were fake and were contained inside an enclosure and could only be moved with magnets from underneath. Little HittyPat wanted nothing to do with them even though we explained to her there was no danger. We had heard Ben playing with this toy earlier and were so glad that he was occupied elsewhere so we could get a better look at it. We tried to use the magnets but found it too difficult so we just looked at the various species of bugs and commented that little boys do enjoy a much different kind of toy than little girls.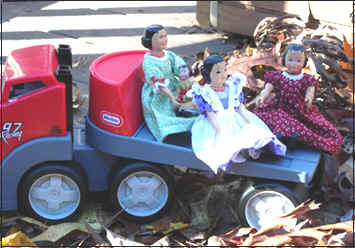 Even though the air was quite chilly we could see the sun was shining brightly so Carol took us out on the deck and gave us a ride in one of toy trucks. I particularly liked the sound of the dry leaves under the wheels as she pushed the truck back and forth. We didn't stay out too long because we didn't bring our sweaters. I would have liked to ride around much longer and I wondered if this was similar to the way the original Hitty felt when she was taken on that hayride long ago.
The several days we were in Maryland passed very quickly and now we are back home. The trip home was less hectic despite much more traffic than Russell was expecting, however, the sun was shining and the roads were clear and dry. We did see evidence of snow and even some ice and we were told that the heavy fog we had driven through on Wednesday had frozen when night approached. I figured we all had much for which to be thankful. A safe and happy trip for us all.
Next Chapter or Return to Beginning