Chapter Forty Six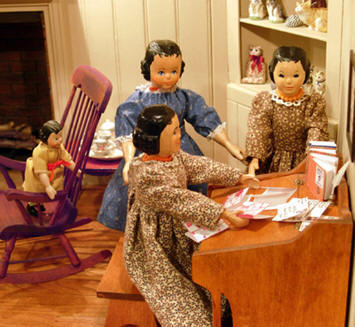 The month of February always makes one think of Valentine's Day and Hittys are no exception. I prepared our cards with my sisters watching to make sure I did it correctly. Esther even let us use some of her Mary Cassatt stamps! We were very pleased to use these particular cards as one of the ladies of the Hitty Club said they were really copies of hand made cards that had been used some time ago.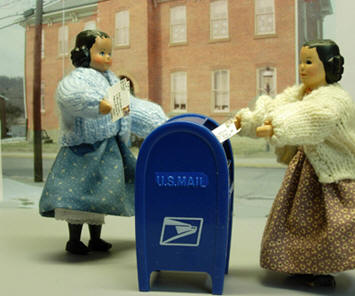 The weather was mild for a day or two so Esther said we would visit a fabric store and that we should get our valentines completed so we could mail them on our way. We stopped in Harmony, the town next to Zelienople and mailed our cards in front of the Post Office. This building had fond memories for Esther since the building had been built as a school and this is where she attended grade school. It was built in 1882 and at the time she attended school the bricks were painted white. She showed us on the side of the building where the old metal tube fire escape had been removed. It brought back many memories for her and we were pleased she shared them with us.
We continued on to Evans City and went into Miss Millie's Fabric Shop. The shop was a quaint little store and Miss Millie was so willing to help us make our selections. We were interested in finding some fabric for spring dresses and maybe even to make a quilt. I was most interested in the sewing machine. I believe it was like an old fashioned Singer sewing machine. I found it quite a contrast to the newer computerized machines that people have today. It had much more charm!
Hitty Carol soon found a little red and white checked fabric she wanted and we noticed as it was being cut that Miss Millie was wearing her valentine dress! We told her we had just dropped our cards in the mail. She said she hadn't gotten hers addressed as yet but would be addressing them soon.
We were surprised to find that this little shop had some of the same fabric as the dress HittyBelle was wearing. She was very pleased. She had a difficult time choosing a different pattern but finally settled on a tiny print. I don't know if she will have it made into a dress or try to make a quilt. That is a skill we hope to learn.
We were about to leave the shop when I noticed a tapestry hanging on the wall across the room. On closer examination I found it to be a needlepoint wall hanging. Immediately my sisters came over to look. They were interested that it pictured a dog! I knew what they were thinking. We have been coaxing Esther to get us a puppy so every time we get the opportunity we point out dogs to her. She said she will think about it.
We said our goodbyes to Miss Millie and then started home. The weather was really quite pleasant for this time of year and we were reluctant to go back indoors. About this time of year everyone starts to dream of Spring.
Several trips to see Robertson family members are planned and we heard a rumor about a visit from our friends back east. We certainly will be looking forward to that event! I do hope all goes according to plan!
Next Chapter or Return to Beginning