Chapter Forty Nine
We have just returned from Kansas City and I must say, a delightful trip! Kansas City is such a beautiful city and it showed all its Spring splendor during our visit. The lilacs, tulips, wisteria, dog wood and red bud trees were all in bloom! A glorious sight.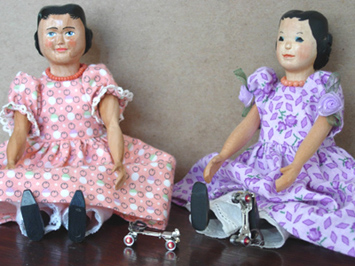 We were staying at the home of the Robertson's son and I know I have mentioned before that he makes miniatures but not in our scale. Well, upon looking at all the new items we discovered a pair of roller skates! These were made just like the skates Esther had when she was a young girl, skate key and all. Upon checking the size of each of our feet it looked as if they would fit Hitty Carol.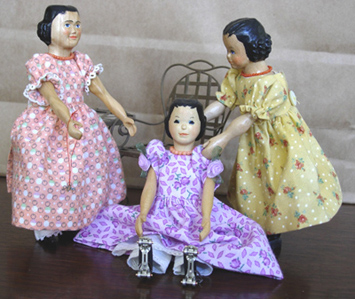 She tried them on then couldn't stand up! All she wanted to do was sit. HittyBelle and I coaxed her into at least trying to skate. HittyBelle said that if they had fit her, she would try. I showed her the skate key and told her I would try to make them fit a little better so she would feel secure.
Finally she stood up! HittyBelle kept close by to catch her if she started to fall but she really didn't need any help. I must admit she didn't skate very far but we were so proud of her for trying. I think Hittys should probably have real knees if they were to become good at skating.
One of the days we were there we met five other ladies that have Hittys and had a wonderful time. The ladies had lunch and about twenty some of us Hittys got to visit with one another. Some were wearing beautiful period costumes made by their owner who does a lot of sewing as she and her husband travel about in their antique car. We saw that car when they drove it to Williamsburg for the Reunion. There was also a lady who carved lovely Hittys and one who had a whole trunk of them with her!
When the ladies finished their lunch they went over to the Toy & Miniature Museum where Esther pointed out some of the work her son and she had done. After that we Hittys got to come out of our cases because one of the ladies that works at the museum wanted to see all the Hittys. She loves Hittys and has several herself.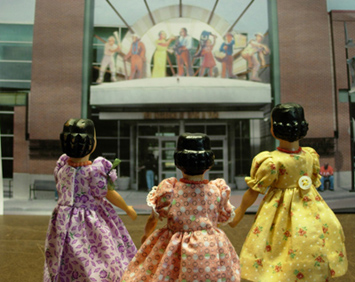 The next day we all went to the Jazz Museum where all day long the various schools had their jazz band performing. The Robertsons enjoyed listening to the music and Russell and Esther could relate to the music from the 1940s. I heard them say, it took them back to their teen years.
Much to my surprise when we came out of the museum we saw this most unusual sight! It was a painted cow! The painting was of a man playing the saxophone. It was explained to us that there are many such painted cows in Kansas City. Poor little HittyPat was afraid but I explained to her that the cow really wasn't real and would not move. There was one just down the block from where we were staying but I never did figure out what the theme was on that one.
Since I am writing about strange things I must tell of the strangest dogs I have ever seen. We have been trying to get Esther to get us a dog and each time we see one, we point it out to her. Well, we pointed these out and told her that this was not the kind we had in mind to own. It was explained to us that these were carved wood and had been made by an artist in Mexico. We examined them closely since they are also carved wood but were quite glad to leave them in Kansas City.
We are now home and looking forward to a visit in a couple of weeks from the Fifers and several friends. I know that Hitty Elizabeth and her Gramma are coming also. They are going to be here for the Hitty Club Meeting and that will be very exciting!
Next Chapter or Return to Beginning