Chapter Fifty Five
Two weeks after the NAME convention we received a large envelope and got excited looking at all the things in it. We are now officially members of NAME. The pins, certificates and membership cards were not Hitty scale but that didn't bother us. HittyBelle immediately put on her pin. Esther read the certificates and letters of welcome to us. It is very exciting being the first dolls to belong such an organization!
For the past several weeks we would sit in our parlor and watch as Esther passed us each day on her way to the workbench. She would stop and greet us but didn't tell us what was happening in the other room, however, I suspected she was carving more Hittys. I was right!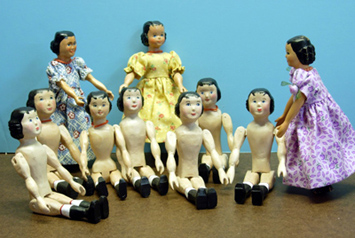 One evening she said we could go to see the new Hittys. They were all sitting on the workbench waiting for undergarments to be made. Esther said there were eight but I only counted seven and then she explained that #2, Hitty Anne, had gone to live with her granddaughter Amy in Maryland. I was beginning to be quite concerned that there would just be too many Hittys in this household so was relieved to hear that homes with family and friends have already been arranged for several more of them.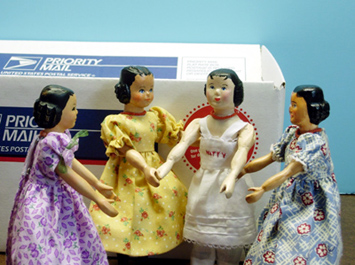 Esther explained that sometimes a Hitty would be put up for adoption on an Internet selling tool called eBay. I know she had gotten some of our dresses from that source. She said she had decided that one of the Hittys would try to find a new home in that manner and we could help her decide which one. This was not an easy decision but we finally chose #8, the last one she had carved. Several days later, after her undergarments were finished, Esther did just that. At this writing we don't know exactly to whom she will belong but we know that she is ready to travel.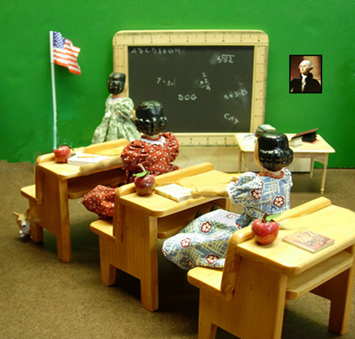 Usually August is a rather slow time of year but this year some schools were starting early. Perhaps they are anticipating a snowy winter and wanted to get some extra days before they have to close the schools because of bad weather. We thought we might as well start our classes also. In our case, since we are home schooled it didn't really matter about the date and Tasha could come into the classroom also. She doesn't like to be left alone.
It has been a busy summer but we are looking forward to fall with cooler weather, Hitty Club meetings and trips to see family. I know that fall is Esther's favorite time of the year.