Chapter Fifty Six
There have been so many changes in our lives and I am delighted to report they have all been pleasant. As I stated earlier, Esther has been carving Hittys and truly enjoying it. My fear was that our family would get too large but now I understand that only some of the Hittys she has carved will live near by. We have had a wonderful time getting to meet them and hear them tell of being carved.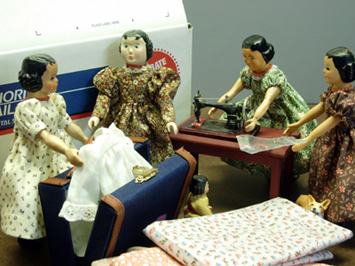 First we met Hitty Marie. She isn't home at this writing as she is off to Quilt Camp. We helped her pack. She had to take a sewing machine, two FGs (Esther told me that meant Fat Quarter), her nightgown and some spending money. I think she was most excited about the pajama party that was planned! I think I would have liked the shopping trip best. She will return in a week or two and we are all anxious to hear all about it. We too will have things to tell her.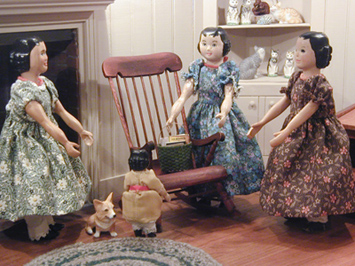 There are two more Hittys. Next we met Hitty Beth, She is a delicate shy Hitty with a penchant for reading. Her roots are certainly different than a lot of Hittys. Esther explained that she is what is called a hybrid. That is to say instead of being carved by just one person, she has been carved by two different ones! When Mr. Fifer learned of Esther's ability to carve he sent her a Hitty with the body, arms and legs already finished and left the hands, face and hair for her to carve. The end result was our beautiful Hitty Beth!
Then we met Hitty Emily. She, like all the other Hittys Esther carved, is from a Judy Brown blank. She is one of the most happy go lucky Hittys I have ever met. Nothing seems to bother her and she is always in a cheerful mood. She is the last Hitty Esther has carved to date and at first was going to be put up for adoption, but the more Esther looked at her, the more she knew she could not be sent to live anywhere else. Hitty Emily was so interested in everything in the parlor especially the clock.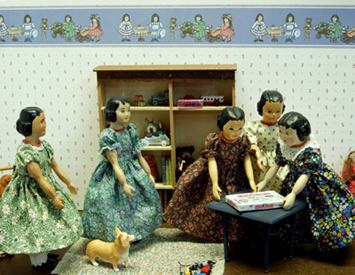 We took both Hittys over to the playroom and oh my! Hitty Emily immediately wanted to set up the Monopoly game and learn to play. HittyBelle and Hitty Carol said they would teach her. I asked Hitty Beth if she wanted to play but she thought she would just look around.
When evening came I could not find Hitty Beth. After looking in all the places where we Hittys usually stay, I found her reading in the toy room. She had seen the books on the shelf. By this time Tasha was tired and decided the best place to take a nap was beside Hitty Beth as she sat quietly reading. Tasha always likes to watch everything we do. She truly is a wonderful companion.
It is going to be very pleasant having more Hittys around. HittyBelle and Hitty Carol agreed with me and we no longer fear their addition. In fact, I think we will be able to do more things.
Next Chapter or Return to Beginning