Chapter Fifty Nine
We are so excited! We went to a huge mall and got to see Santa Claus! Esther said it really wasn't a huge mall but to Hitty size dolls it seemed huge. There were a lot of people rushing around and Christmas carols playing in the background. We kept exclaiming over the beautiful decorations.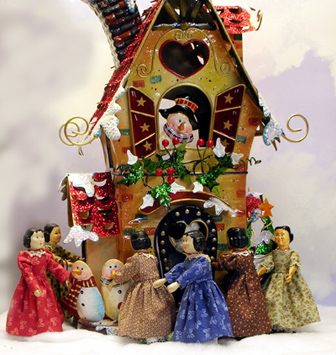 We didn't know where to go first. I saw the most unusual house over in one corner so we all rushed over to see it. It was so strange, we knew it had to be just part of the Christmas scene. It was made of tin and had sparkles on the roof. HittyPat wouldn't even go near it!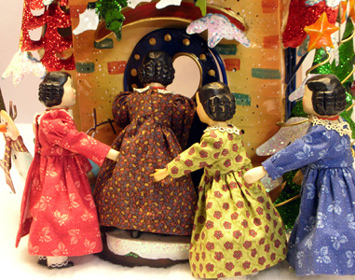 HittyBelle was sure she saw someone moving inside! She hurried over to look in the door but couldn't find anyone. One of the other Hittys thought they saw someone moving also!
Then to my surprise HittyBelle actually went around to the back of the house and entered. The next thing we knew she was looking out the door! Esther told her to please come out immediately!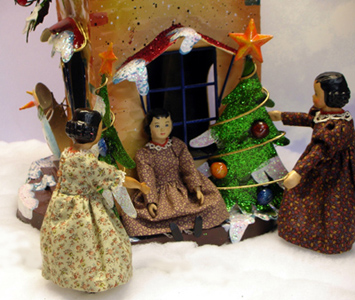 When HittyBelle finally came out Hitty Beth had been so frightened she had to sit down. She thought surely HittyBelle would be harmed by whatever or whoever was in the house but HittyBelle said the only one in there was one of Santa's mouse helpers and he was quite pleasant. I suppose all Santa's helpers are happy
creatures!
Next we went to the area where there was a train that children could ride and also Santa Claus sitting on a big stand. We watched the train go round and round but there weren't any real children riding it at that moment. Esther said we had gone to the mall very early before a lot of people so it might have been just too early for little children. One of the cars was carrying many packages and one was a caboose. I think Christmas trains are interesting.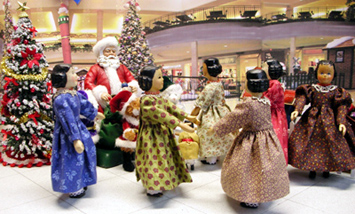 After watching the train we edged our way closer to Santa Claus. He seemed to be giving instructions to his little helpers that were dressed like mice. I don't think they were really mice since they were bigger than HittyPat. One of them came over to talk to HittyPat and ask her if she wanted to sit on Santa's lap.
I was so surprised how anxious HittyPat was to sit on Santa's lap. She usually is so frightened of strangers, but she climbed up on his lap and sat there and had a quite a chat with him. All three of Santa's helpers came over to visit with her. I enjoyed watching her have so much fun.
After our visit with Santa we were all tired so Esther said she and Russell would come back another time to do their Christmas shopping. I think we must all have fallen asleep on the way home just like real children when they have had an exciting day. Now we will look forward to the Hitty Club Christmas party and all the festivities of the season.
Next Chapter or Return to Beginning