Chapter 67
The morning of May 12th finally arrived! None of us slept well just thinking about the exciting two days that were ahead of us. We were going to see the original Hitty! I could hardly believe it! She was part of the exhibit at the Brandywine River Museum "Flora, Fauna, & Fantasy - The Art of Dorothy Lathrop" in Chadds Ford, PA. We, of course, just knew Hitty was the most important part.
The ladies in the Hitty Club came to pick Esther and us up at 9:30 and we were off. We know Tasha wanted to come along also but we told her no doggies were allowed. She watched out the window as we drove out of sight. I knew she was sad and would miss us.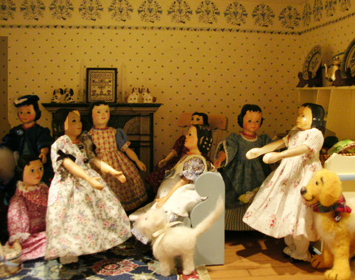 We drove across the Pennsylvania Turnpike to the eastern part of the state. It was about a six hour ride. After checking into our hotel we arrived at the home of Pat and Bill Fifer for an evening of visiting and dinner. We met a lot of people we hadn't seen for awhile and their Hittys. All the adults were so glad to see each other. Judy Brown and her husband had come up from Virginia and Hitty Elizabeth and her Gramma had come down from Connecticut. There was also a new lady there that had just carved her first Hitty that week! Hittys were the main topic of conversation. The Fifer Hittys live in a beautiful dollhouse named Chez Hitty in which we spent time renewing our friendships while the adults visited.
From time to time little Hitty Pat had reminded Esther that she would like a Hitty her size to join our family. There were a group of Hittys there that were looking for new homes and so, we have an addition to our family. Would you believe, she is even a bit smaller than Hitty Pat and we have named her Hitty Penny.
On Saturday morning we were off to the museum. Immediately the whole group went to the case containing the original Hitty. Oh, what excitement! Another friend from Philadelphia and her Hittys were waiting for us there. We all crowded around that case! Hitty was sitting on her bench, dressed very much like what she wore for the front piece picture in the book. What a shame no pictures of her were allowed but Esther told us that was standard procedure at most museums. Everyone was pleased that she was sitting at eye level and in good light so they could all take a wonderful mental picture away with them. I kept wondering what she was thinking. Perhaps it reminded her of the days long ago when she was exhibited at the Cotton Exposition in New Orleans wearing the wedding dress. I am sure she was happy to again have so many visitors.
The adults finally tore themselves away and wandered to other sections of the museum. We posed for a picture with some of our friends from Philadelphia. They had never met Hitty Beth or little Hitty Penny. I told them that little Hitty Penny had just joined our family the previous evening!
The grounds of the museum are beautiful. The color spring green was everywhere! While the adults walked around and shopped at the book store we Hittys sat on a bench in front of window looking out at the trees and the water. It was so peaceful I didn't want to leave.
With such beautiful surroundings it was hard to say goodbye. I think we were all reluctant to leave but the Hitty Club ladies knew we had a long drive home and they wanted to stop at least at one fabric store.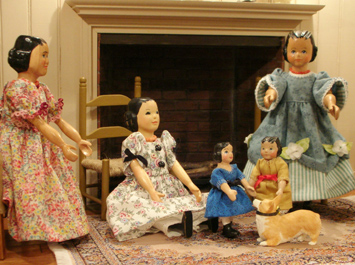 We arrived home late on Saturday evening and that night we did have a good night's sleep! We were tired but oh, so happy. We told little Hitty Penny that we had a treat in store for her the next day and indeed we did! She met the rest of the Hittys that live here but the most important meeting was Tasha who was overjoyed to have us all home again.
Next Chapter or Return to Beginning