Chapter 68
My head has been spinning this past couple of weeks! So much has happened and I will try to tell you about it.
First we have two new family members! I can't believe that once I thought I was to be an only Hitty and now Esther and all of us get so excited when a box arrives and another Hitty comes into the family. I questioned Esther about the use of the word 'family' and she explained that Hitty families are not necessarily traditional. She told me to think 'outside the box' and not to worry about as to whether additional Hittys are sister or cousins or whatever!
I will start with the arrival of Hitty Amelia. She was carved by Janet Cordell and made the trip from Arkansas. We had been looking forward to her arrival and when she came we all loved her. I don't think she realized there was going to be a dog at her new home and she and Tasha got acquainted a bit slowly.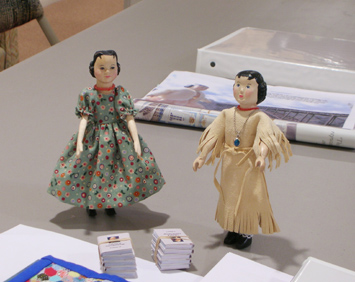 She had only been here a few days when it was time for the Hitty Club to meet and just before the meeting, a lovely little Indian dress arrived in the mail and immediately Hitty Marie insisted on wearing it. She and Hitty Amelia wanted to be front and center when the meeting started!
There was plenty of excitement earlier! The first part of that same week we sent Hitty Emily off to Camp Piney Woods. She sent us several emails and a couple of pictures. I gasped when I saw her up in a tree!
In one of the pictures she was playing a game with Hitty Flower. Hitty Flower lives in Massachusetts and this was her first time in camp also. I think the two became good friends.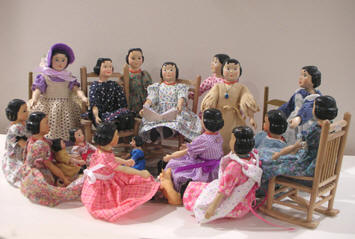 Now to get back to the Hitty Club meeting. There was not a specific project this time but we were fascinated by Hitty Clarissa, the club travel Hitty, telling us about her experience when she visited Millie. It seems Millie and another lady are interested in genealogy and took Hitty Clarissa with them to a cemetery where some of their ancestors are buried. They told her that you look for your 'roots' and explore the 'branches' of your 'family tree.' Hitty Clarissa was perplexed that they wrote down names of people and dates of birth and death rather than types of trees and wood. Since we are wooden dolls this seemed strange if one was looking for roots.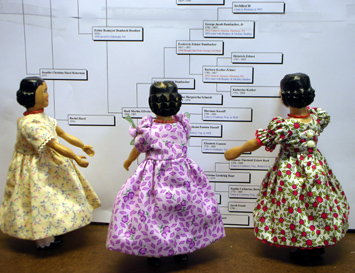 After the meeting we Hittys asked Esther to explain about genealogy to us. She explained that genealogy is an account of the descent of a person, family or group from an ancestor. She showed us a genealogy chart of the youngest member of the Robertson family and pointed out how it traced the relatives back through generations. She said that the terms, roots and branches had a completely different meaning to wooden Hittys.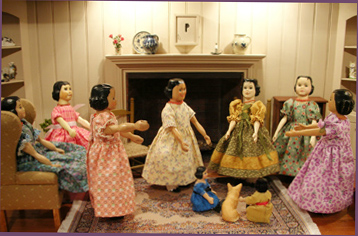 At the end of the week we started watching for the mailman because Esther told us that the other Hitty she was expecting was on her way. She arrived and immediately had her picture taken to send off to friends! After she caught her breath, she came down to our rooms to meet all of us. Esther told us she had been carved by Sara Cole and her name is Hitty Sara. She is the first of the Robertson Hittys to be named after her carver. We spent most of that morning getting acquainted. We told her there really were two more of us but one was out of the house and the other one at camp.
I wonder now, will more Hittys come to live here? Esther said she does not know what the future will bring. She told us to just start thinking about our planned trip to the Bavarian Event in July and not be concerned as to the size of our family!
Next Chapter or Return to Beginning