Chapter Sixty Nine
Hitty Emily is home is from camp! We all rushed to meet her and hear all about her adventures. She was as excited to see us as we were to see her. She was talking so fast she got out of breath! Esther told her just calm down and take her time. She told us about all the Hittys she met, the camp Bittys and that Hagrid from the Harry Potter stories was there in person! We just couldn't believe it!
We knew before she left that she would be bringing some souvenirs home but we didn't realize there would be so many! We opened the box and piles of items tumbled to the floor. We wanted to examine each and every item. There were so many things I can't begin to name them! There were plenty and Esther reminded us to share.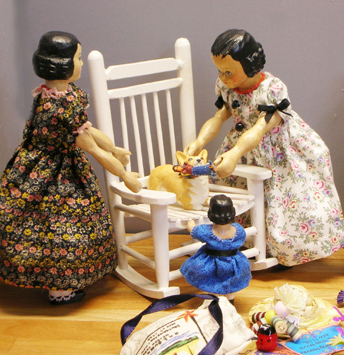 Immediately Tasha grabbed a tiny doll and jumped up on a chair. Maybe Tasha thought HittyBelle couldn't reach her there but she managed to rescue the doll. Hitty Penny watched intently as that was the souvenir she wanted.
As Hitty Emily looked around the room she realized that our Hitty family had grown while she was away. I introduced her to Hitty Amelia and told her that she had arrived just after she left. Hitty Amelia was glad to meet her because for over a week that is all she heard us talking about.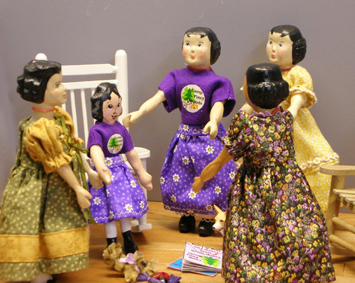 Next she met Hitty Sara and as she stepped up to meet Hitty Emily she recognized the little camp Bitty. She told us that where she came from there were many Bittys. Hitty Emily explained that these little ones helped at camp and that one went home with every camper.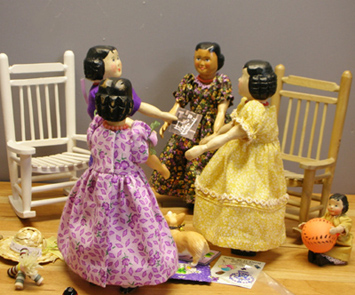 Hitty Emily went on to tell us that Hitty Williamena from our Hitty Club group was also in camp. I assume at our next meeting each of them will tell us what the other one forgot. She explained that one of the Hittys she had made friends with was Hitty Flower from Massachusetts. It seems the Hittys all had their pictures taken in brown tones at the end of camp and she showed us the one of Hitty Flower.
When Hitty Emily finally stopped talking we had a chance to catch her up on all the activities that had been happening here at home, especially this past week. We explained that about 30 ladies from the Butler Doll Club had come to see Twin Manor and us; then, two ladies from Flintstone, MD came to visit for two days. We got to visit with the Hittys that came along with them.
By late afternoon, we were all tired. I think we were worn out from excitement. Little HittyPat was so glad to have Hitty Emily back home that she climbed into her lap and just about fell asleep. I guess we all need to get our rest because next on our agenda is the planned trip to the Bavarian Event and that will be truly exciting!
Next Chapter or Return to Beginning