Chapter Seventy Eight
For the past several years, Hitty Carol has been taking piano lessons and recently HittyBelle has taken an interest in the clarinet. They both looked forward to the day when a recital would be held and they could show their talents. While trying to set a date for such an event they learned that Hitty Maple of the Maxwell Hittys was quite accomplished at the piano and decided to invite her to come for a visit and participate in the recital.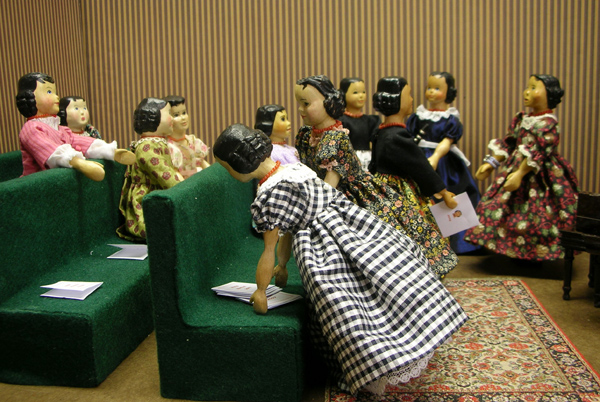 The date was set so the Hittys from Hitty Club could attend. All my sisters were so excited. We arrived early and waited excitedly for the Club Hittys to arrive.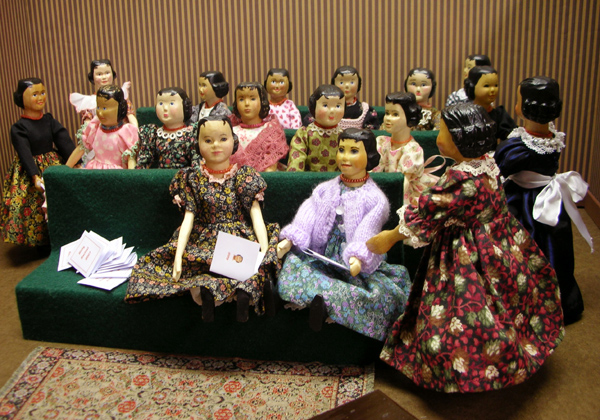 Upon their arrival, I helped each find a seat. Everyone was anxious for the recital to begin so there was only a few moments for visiting.
The program began with Hitty Carol at the piano. She chose "Minuet in G" by Beethoven for her solo selection. I had to remind Hitty Marie that she was not to talk during the program. As each Hitty waited their turn, I do believe I saw nervous expressions on their faces.
Hitty Maple followed with a beautiful rendition of "Spinning Song" by Mendelssohn. Once she sat down at the piano, all signs of being nervous disappeared and she played with such confidence. It was as if she had played the piano all her life!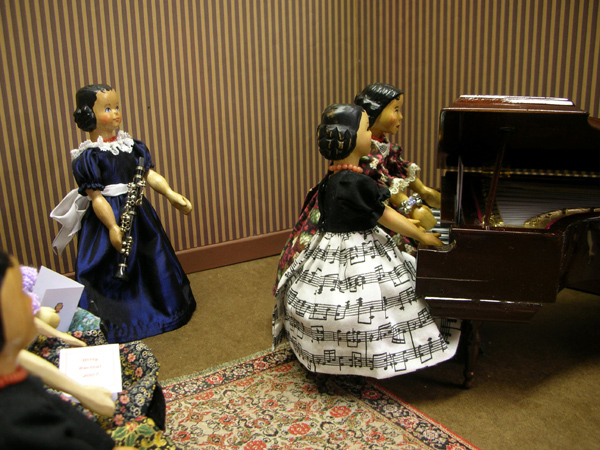 She stayed at the piano and was joined by Hitty Carol for a duet. The girls had only practiced together for the week that Hitty Maple had been here but one would never have known that they had not played the piano together always. They played "Ode To Joy" by Beethoven and the entire audience clapped.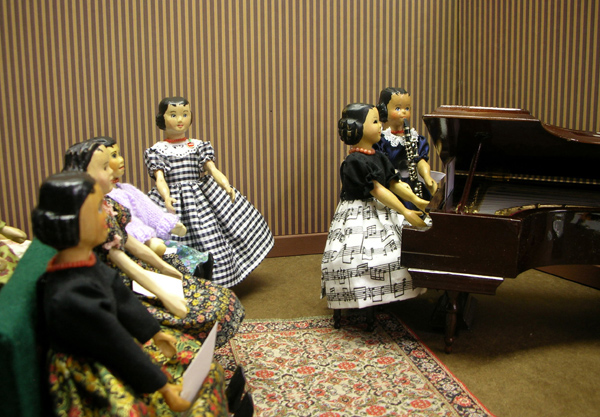 By this time Hitty Belle was getting quite fidgety but now it was finally her turn. When a recital was first mentioned she was so anxious to play several solos but when the actual time came, she elected to only accompany Hitty Carol. They played the "Hungarian Dance #5" by Brahms and I was surprised that she did so well. Perhaps next time she will have overcome her reluctance to do a solo. Hitty Beth stood by in hopes of being asked to turn the pages of the music but they managed on their own.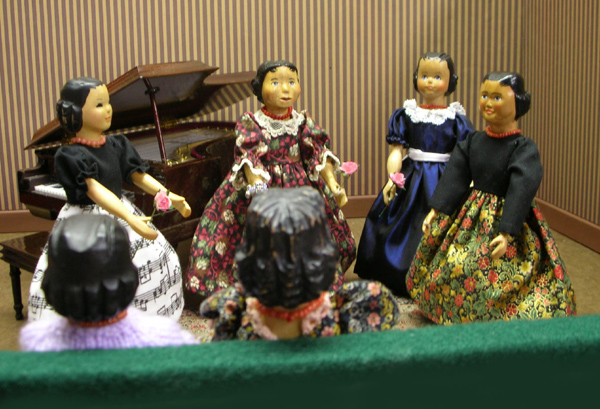 At the end of the program I was pleased to present each girl with a rose. They were delighted and I heard one of them mention that it would get pressed into the pages of their favorite book and saved along with the program of the event.
We all told Hitty Maple how delighted we were that she had been here to participate and we wished her a safe journey home.
Next Chapter or Return to Beginning
or