Chapter One Hundred Twenty-Four
Life for Hittys at the Robertson house is never dull! We go from one event to another with hardly time to catch our breath. At the last Hitty Club meeting our expected visitor arrived. We, or I should say Becassine, has been so looking forward to having one of her own kind visit. She has reminded us daily that she was coming.
This Becassine is from Oregon with a stop in Ohio. Actually, her US travels started in Arkansas! The two greeted one another in typical European style, a kiss on each cheek. They were both pleased to make the other's acquaintance and their conversations will, without a doubt, reveal they have much in common.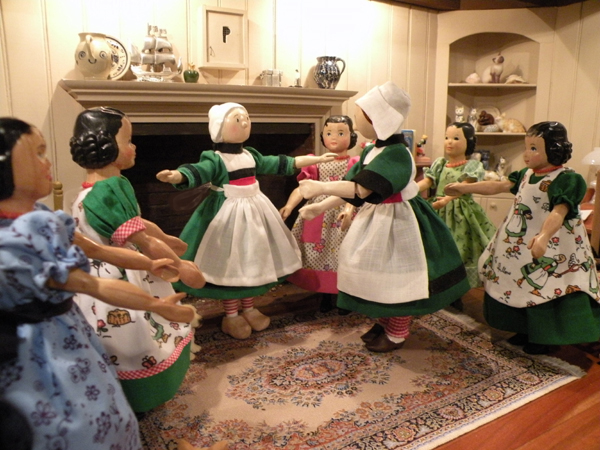 Before long, our Becassine introduced some of us to her. We are quite a large group and she explained that we were not all at home. Hitty Helen is off to a Star Party in Nebraska with the Robertson's daughter Carol, Hitty Lara had stowed away with one of the club girls and that was just to name a few of us! HittyBelle and Hitty Colleen wanted to make sure she noticed that they were wearing what they considered appropriate for her visit.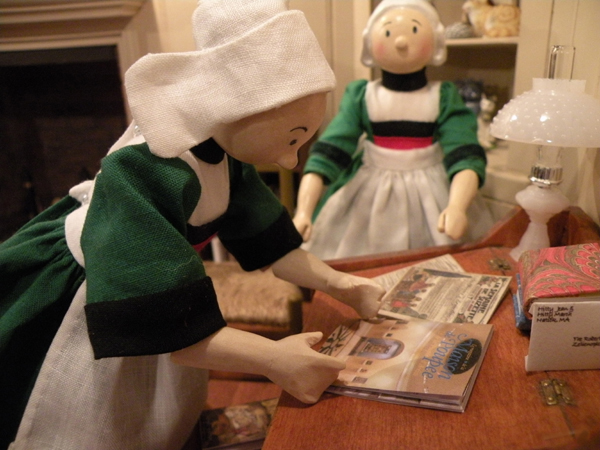 One of the first things that caught her eye were the French magazines on the desk. What a delight for her to find reading in her own native language and that one of them was La Semaine de Suzette, her very own roots! The other was one of pride for us as it was Maison de Poupee featuring the Robertson's son's work on the cover.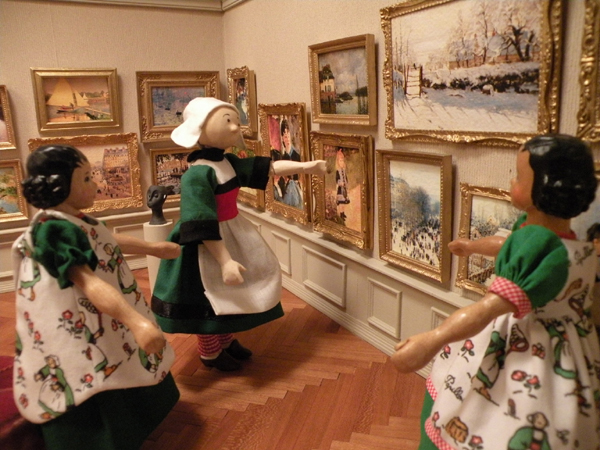 We tried to show our appreciation of her background so HittyBelle and Hitty Colleen took her over to the miniature Art Gallery. She was delighted to see so many Impressionist paintings that were quite familiar to her.
Back in our rooms she found the kitchen to be the center of family activity. Hitty Carol was about to prepare some vegetables and was quite interested in any suggestions she had.
The two Becassines spent hours just in conversation. I imagine comparing notes about their families. Our visitor told us that her brood consisted of more than Hittys. She was almost out of breath naming them all! There were Ellen, Pink, Will and oh, so many more!
At last the time came for her to say good-by and be on her way home to Oregon. We wished her a safe trip and a wonderful welcome home!
Note: The visiting Becassine was carved by Janet Cordell and dressed by Eileen Stewart.
Next Chapter or Return to Beginning
or