Chapter One Hundred Thirty Four
'Tis the season to be jolly and bake! And parties! We Hittys are certainly in tune with the season. We planned a Christmas party in the music studio and started preparing the food. Hitty Lara also wrapped some of the cookies in freezer paper to be able to have treats later.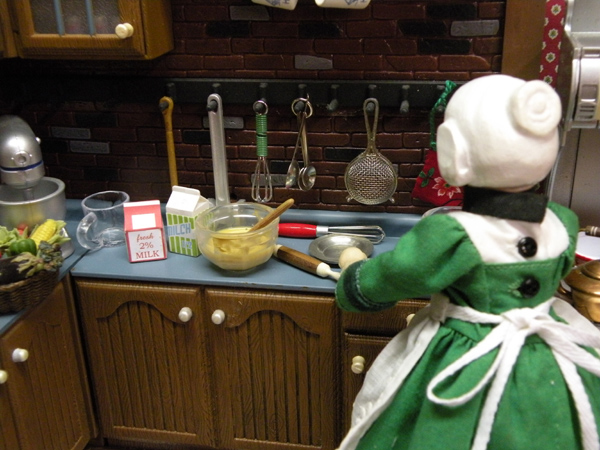 Becassine prepared a special recipe she keeps in her head. I suppose it is one from her native France.
The rest of us spent hours going through various cook books. We oohed and aahed over all the pictures before making our decisions as to which ones to make. We are pretty good at making cookies and brownies but for the fancy cakes, we had outside help.
When all the baking was completed, Becassine made sure everything was in order before we took it to the party. HittyPat and Michael tried their best to sample but Becassine, as usual, was alert to their antics.
The Christmas tree and tables were already set up in the music studio and there was a festive feel in the air.
Hitty Helen and HittyBelle set up the gingerbread house. It certainly looked good enough to eat but I suspect we will just use it as a decoration.
At last we will get to hear Hitty Catherine on her keyboard. She has been telling us about it for months but we had never gotten to hear her play. Hitty Colleen was quite interested. Of course, she is always interested in everything! She was trying to talk Hitty Catherine into bringing it over to our rooms so she too would have access to it.
We invited Gretchen and Gunther to our party. Two years ago they treated us to a Bavarian Christmas party and we wanted to reciprocate.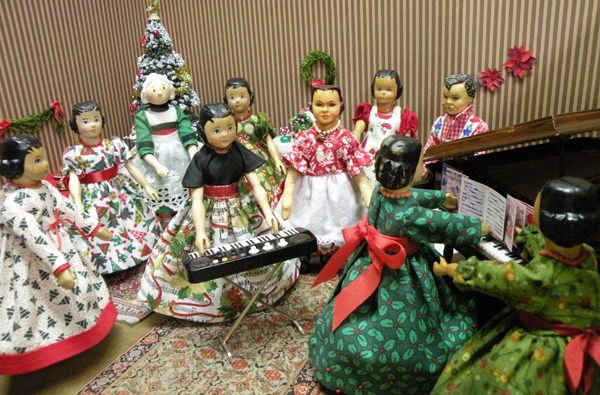 Hitty Carol started playing Christmas carols and we all burst into song! She played all the old traditional favorites and Hitty Catherine accompanied her on the keyboard. Now I know why these two have been out of sight so much, they have been practicing!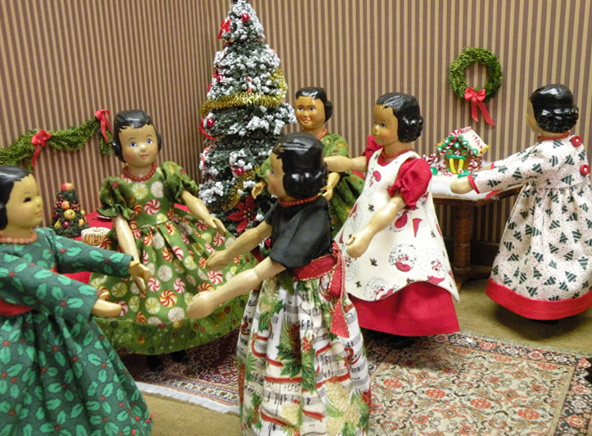 Our party was a success and we lingered long to enjoy every minute. Hittys love to dress up and Christmas is the perfect time. Esther said it is now time for her to concentrate on the family's Christmas and she will help me with another chapter closer to Christmas. In the meantime, I am sure many Hittys will have a busy December.
Next Chapter or Return to Beginning
or