Chapter One Hundred Forty One
Spring is finally making its appearance and we are delighted! It is wonderful to hear a bird chirp and feel warm sunshine. To add to our enjoyment, the new basement project has been completed. Esther now has five more feet of work area and she appreciates every inch. It is hard to believe that we little creatures can use so much space!
With building of any type, comes dust. Oh indeed, it did show up in the Art Rooms! We Hittys decided to help Esther give them a good cleaning. We left the cleaning of Twin Manor up to her. Even though the Art Rooms and Twin Manor are both in 1/12tth scale, the items in the house are more delicate.
We started in the Gallery. HittyBelle swept the packing room while Hitty Carol carefully dusted the desk.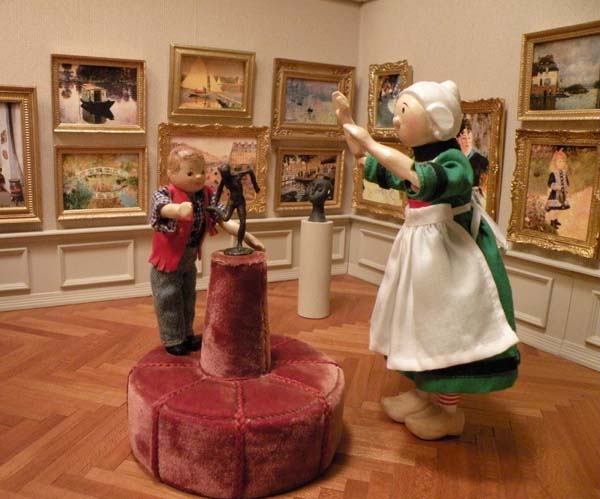 It didn't take long before Michael got into trouble. It was good that Becassine caught him before that statue fell to the floor!
We then we moved on to the Monet rooms. These rooms are replicas of his dining room and his kitchen at Giverney. Hitty Colleen helped move the pieces onto the table for polishing.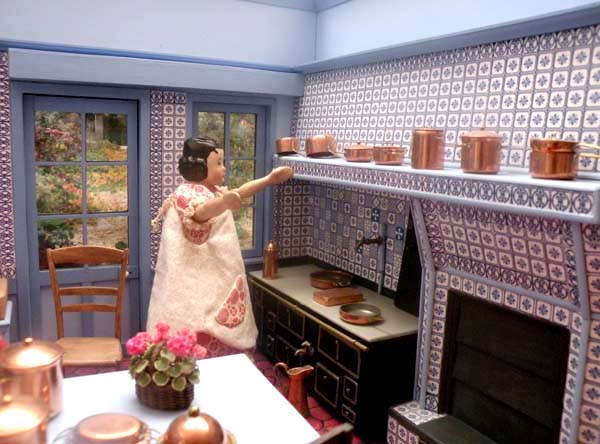 This was the first time Hitty Catherine had been in this room and she was quite surprised at the number of pots and pans. There are 35 pieces of copper in this kitchen!
Next to the kitchen is the dining room and we are always so surprised at its bright yellow color. After it was cleaned, Hitty Carol replaced the chairs around the table.
The last rooms we helped clean were the Vermeer rooms. One of them is an adaptation of the painting titled "The Milkmaid". The other room is an adaptation of Vermeer's studio but Esther never finished it as her interest changed to 'Hittys' when she was working on it.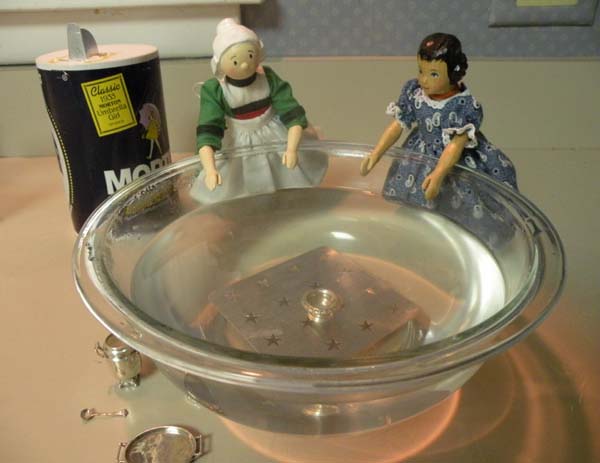 As I said earlier, we will leave the cleaning of Twin Manor up to Esther. There are many pieces of silver in it and just recently she found a quicker way to clean them. It used to take her about 8 hours as she polished each piece separately but now, a quick dunk in the bowl and they will be clean. She is delighted!
Next Chapter or Return to Beginning
or