Chapter One Hundred Fifty
Today was the beginning of Zelienople's Horse Trading Days. This has been a yearly event for the past 47 years. HittyBelle, Hitty Carol and I attended several years ago (Chapter 36) but the Hittys that have joined our family since 2004 have not. Of course, when Hitty Colleen heard about it, she was quite excited and insisted that she at least go to Main Street and see what it was all about. Becassine agreed to take several of the Hittys, Michael and Hitty Paige.
It is a very crowded event. For three days, people come from miles around and our little town of 4,000 turns into a bustling multitude of shoulder to shoulder people! The four corners of the park are filled with vendors selling all kinds of merchandise. Also, all the businesses along Main Street set out tables of their wares for sale. There really isn't any 'trading of horses'. Everyone stops at the information booth and gets their wooden nickels. These are good for some trades!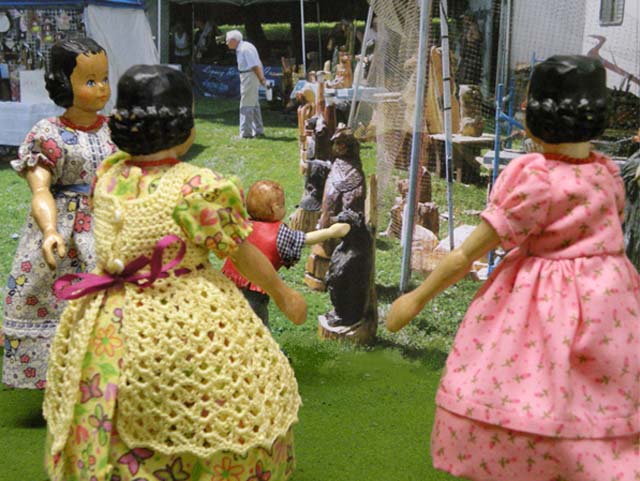 Their first stop was to see some large wood carvings. Not like us at all. These were animals and Michael was the most interested.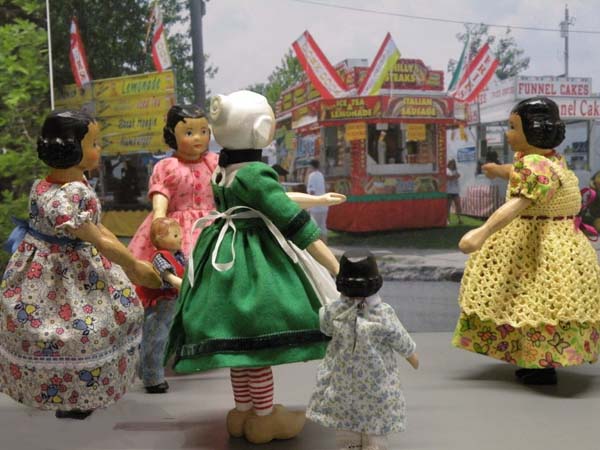 There were brightly colored food wagons that took up one whole section of the corner park. Becassine commented that there were more choices of fun type foods than she had ever seen before!
After spending time on Main Street the Hittys took in another event. The local residents take advantage of having so many people in town, therefore, there are numerous yard sales. Like all yard sales, someone's junk can become someone else's treasure. That was the case for Michael. He was thrilled to find an R2 unit astro droid. Esther at first called it R2-D2 from Star Wars but was soon corrected. For one thing, R2-D2 is silver colored, not gold!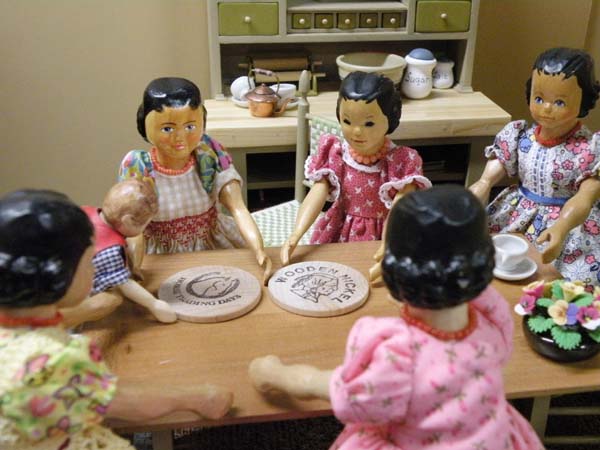 When they got home they were proud to show off their wooden nickels. I was surprised they had not tried to 'bargain' with them but they said they preferred keeping them as souvenirs.
Frankly, I was just as glad Becassine was curious and had enough energy to take the Hittys. I am like Esther and do not like hot weather and it has been unusually hot this July. We don't get many days of temperatures in the 90s with high humidity but this summer we have exceeded the record for days that high. I think back now to the days we all complained about the heavy snows. I suppose this is our pay back for so much fussing! I'll try to remember that next winter.
Next Chapter or Return to Index
or