Chapter One Hundred Fifty Two
So much has happened since I last put pen to paper that I hardly know where to begin. Esther has finished the room for our new furniture, Hitty Helen left on a trip out west with Carol and Bill and there is news of a Hitty Gathering in Texas next October. We are already planning what to wear! I do believe though the most exciting news it that we have a new sister! Granted Becassine wasn't thrilled with having another Hitty to look after, but she has adjusted.
Our new sister's name is Hitty Missy and she comes to us from her carver Judy Brown. We have all made her welcome and she is a very pleasant addition to our family.
When we received the new Bubbenmoyer furniture this spring, Esther promised us a room for it and it is finished. There was some trial and error on wallpaper, colors etc but after suggestions from our friends, it all came together and we are pleased. I particularly like the color variation of the wainscot wallpaper representing the cover of the original Hitty book.
HittyBelle insists on wearing the cowboy dress and hat we received as gifts even though we have a year before the Texas event. That is all my sisters and friends talked about for over a week. How to dress was the big question. Everyone we know, certainly is in favor of attending!
To appease us and get us to settle down, Esther acquired some fabric with western designs from her friends. The idea was that this would give us plenty of time to pick and choose before she started sewing.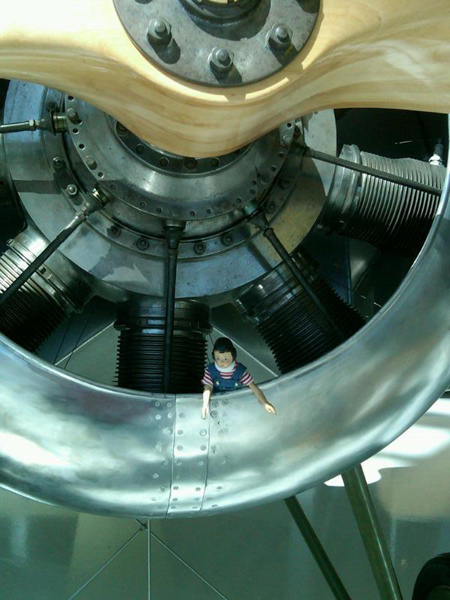 We receive news of Hitty Helen's trip daily. She is accompanying the Robertson's son and daughter on a trip from Seattle to Kansas City with a lot of sightseeing along the way. They assured us that she was in no danger as she viewed the propeller of the Spruce Goose!
I do hope I have not left out any news. Next on our agenda is a visit from our Boston friends and we are looking forward to seeing Hitty Jean and her sisters again. I understand she will be traveling with Hittys we have never met. I will tell you all about it in the next chapter
Next Chapter or Return to Index
or