Chapter One Hundred Fifty Three
Our visitors have come and gone and unfortunately the ladies spent their time talking and playing instead of taking pictures. Both the ladies and the Hittys had a wonderful time so I will try to impart the happenings.
The first morning during breakfast the mailman came early. I suppose it was because he had numerous boxes and thought it a good idea to make room in his mail sack for other people's mail. People knew ahead of time that our visitors would be in Zelienople, so their mail was sent here. There were a lot of smiles and happy voices opening all the treats.
After breakfast we went downstairs to open packages from each other. We exchanged beautiful Nantucket baskets with hydrangea petals and dresses to wear in October to get in the mood for Halloween.
While the ladies worked on their sewing project we Hittys had a grand time playing with some of the goodies that had arrived in the mail. We played with the finger puppets and could hardly wait to eat the candy bars.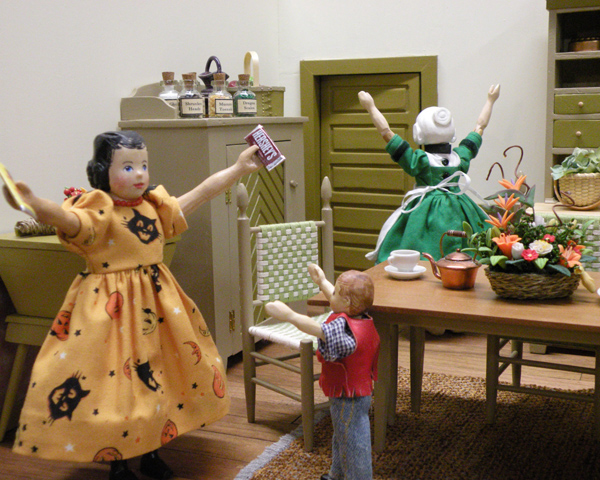 Becassine gave up and left the room as Hitty Missy insisted on teasing Michael.
The visit ended with Martha and Enid completing the dress making project. Hitty Faye and Hitty Zee were delighted to show off the finished product. A job well done!
Now we will look forward to more visitors in October and Halloween. Oh I do so love fall!
Next Chapter or Return to Index
or