Chapter One Hundred Fifty Seven
We keep hearing the song "It's Christmas Time in the City" and it is Christmas time here in Zelienople too! There is so much to see and do in December, that I have trouble keeping up with all of it. Outside decorations are quite popular here and lights are turned on each evening at 5:00. This past week several of my sisters and I took a walk around town to see the sights at dusk.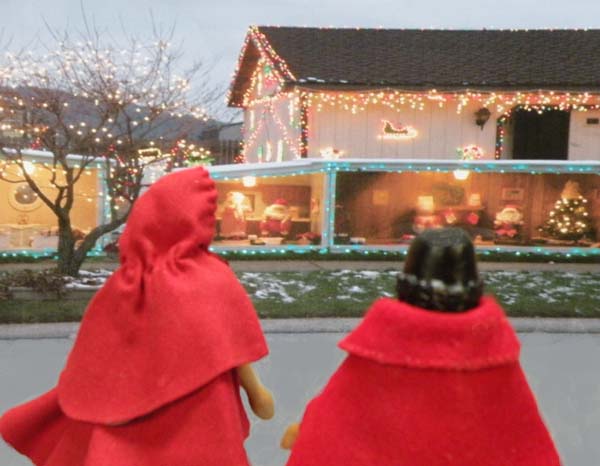 Our first stop was the elaborate display just across the street from our home. There are little rooms with animated characters depicting many scenes lining the sidewalk. Esther said they remind her of the way department stores windows were decorated when she was a child.
There was Santa's workshop showing the little elves hard at work. All the little workers have hammers that move.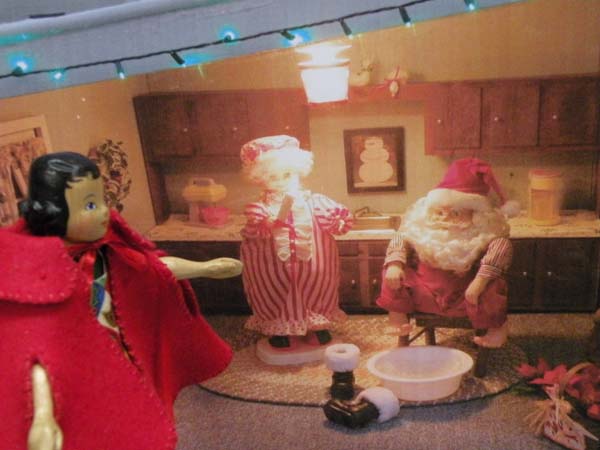 The scene of Santa soaking his feet made us giggle as we remember Becassine soaks her feet when she has had a long day too.
There were a dozen little scenes but one of our favorites was the one at the end of the row. It was to remind us all for the reason for the season!
The display at one of the houses up the street was quite different. We were curious about the big lighted plastic snowman that moved ever so slightly in the breeze. I explained that is like a giant balloon.
We made many of our holiday treats, sampling them as we went along, finished wrapping presents and declared us well on our way to being ready for the big day.
High on the preparation list was to decorate the parlor. This is Hitty Missy's first Christmas and she was particularly fascinated with the little lighted houses on the mantel.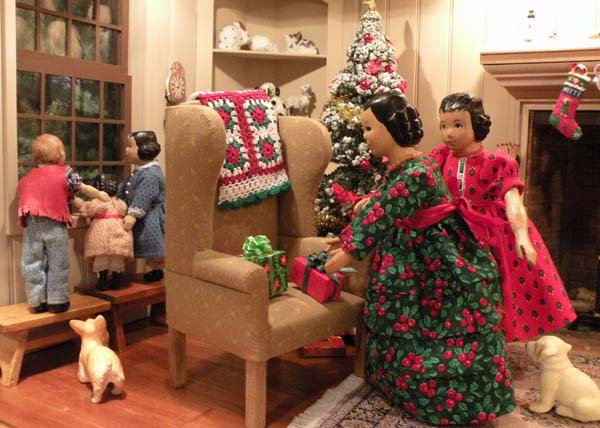 That evening the little ones pushed stools over to the window and started to look for Santa. They didn't realize it was not yet Christmas Eve!
The Robertsons and the Hittys wish everyone a MERRY CHRISTMAS AND A HAPPY NEW YEAR!
Next Chapter or Return to Index
or