Chapter One Hundred Sixty Four
Another new experience is unfolding at our house. Hitty Liza, a student from Argentina has come to stay with us to further her education. There are more similarities than differences and we are finding it quite interesting to learn about Hittys from another land. We do remember that our ancestor Hitty survived a sailing trip around the tip of South America and so were fascinated to actually meet someone from that part of the world. Argentina is not quite at Cape Horn but close enough as far as we were concerned.
She enjoyed meeting all of us. HittyPat was quite taken with her and insisted on being picked up which was a bit of a distraction as Hitty Carol was showing her our sewing area.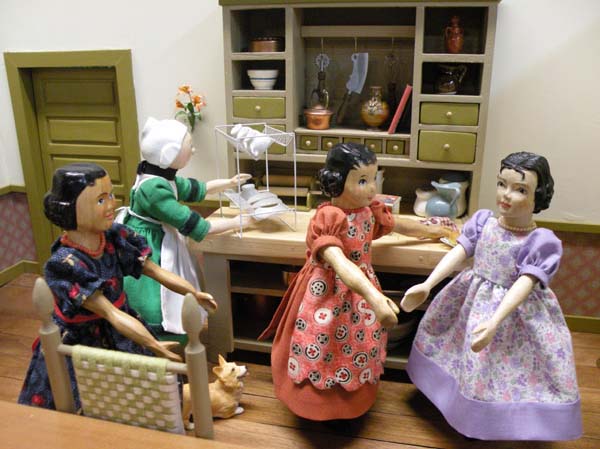 Becassine told her that she too was from another country and then resumed tidying the cupboard while we showed her the rest of our rooms.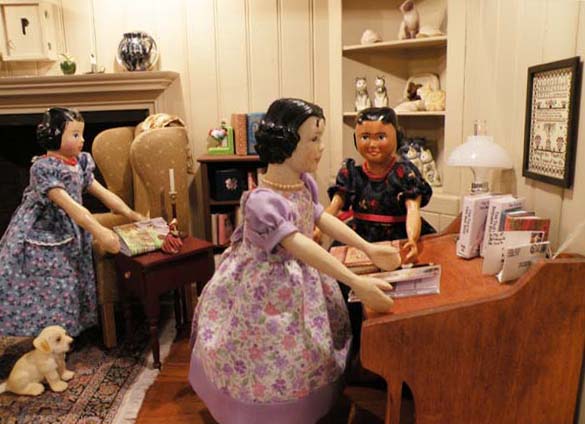 I explained that her arrival would be recorded in the journal I started the day I arrived at the Robertsons. Perhaps she will want to write a journal of her experiences.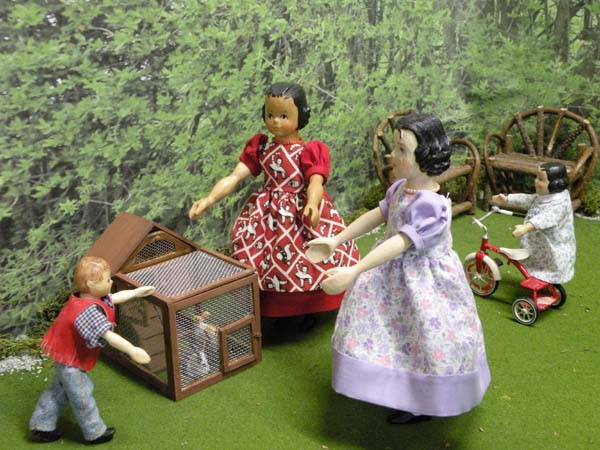 Michael had been waiting patiently for his turn to meet her and, of course, he immediately took her out in the yard to show off his newest pets. He has enjoyed those little rabbits so very much and I must say he has kept his promise to do the caretaking.
While we were outdoors, we showed her one of the ways we have fun. Jumping rope has been a past time of children for many generations and is still quite popular here in our little town. I wonder when she will try it.
Hitty Liza has now settled in and we hope she enjoys her studies and living here in Zelienople, PA. We will try our best to keep her from becoming too homesick.
Postscript: Hitty Liza was carved by Gustav Trullet in Argentina and painted by me. His Hittys are available unpainted on eBay.
Next Chapter or Return to Index
or