Chapter One Hundred Seventy Six
Time is going by so swiftly. It was just a short time ago that we returned from the Texas Gathering and now the Halloween holiday is fast approaching. Zelienople residents decorate quite extensively for Halloween, have a big parade and a set Trick or Treat night for children. The weather has been absolutely gorgeous and so we took advantage of it the other afternoon and took a long walk to see some of those decorations.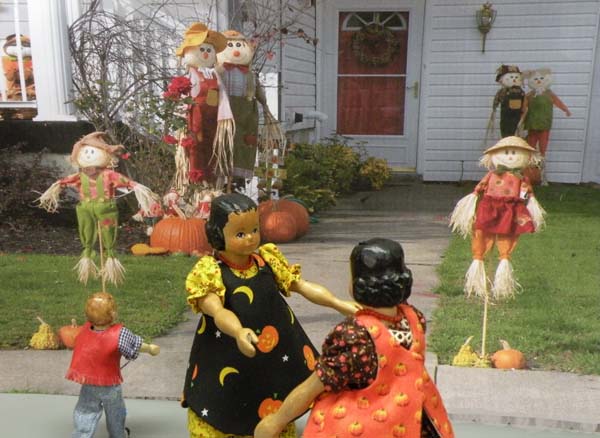 Our block had some of the best, at least we thought so. We started with the house across the street where the figures at the sidewalk seemed to bid us welcome.
Michael got so excited he started up the steps into their house. We told him, we were just out looking at the decorations, not visiting!
First one side and then another, back and forth as we went down the block.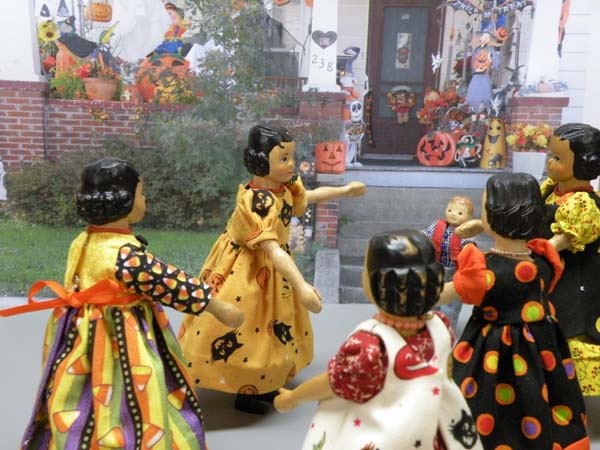 One house in particular had so many decorations, it was hard to take them all in.
Hitty Pilar and Hitty Carol just had to get closer to take a better look. I don't think people in the house minded as long as they didn't touch anything.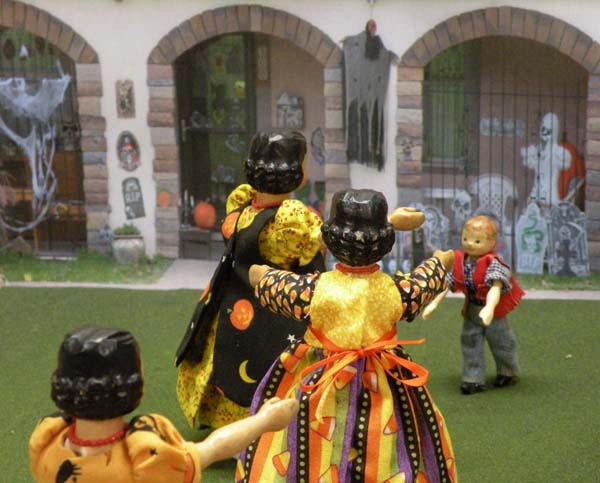 Then it was down the block and around the corner. This house had a completely different theme. It was all about tombstones and ghosts. This one scared Michael and he wanted to leave as soon as possible.
On one of the main streets in our town is a house that gets elaborately decorated for every holiday. We thought it quite nice but really liked the houses on our own block better.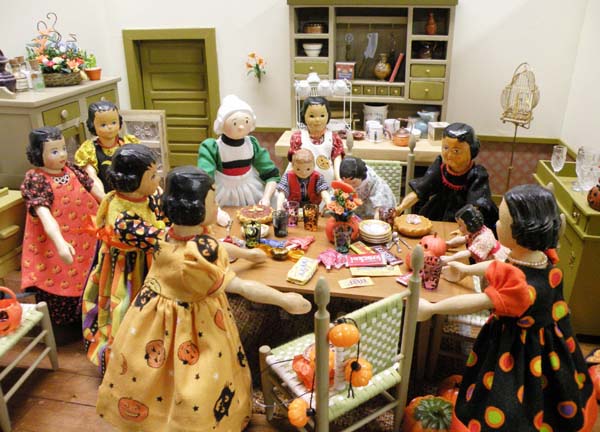 After a wonderful afternoon we returned home to find Becassine had prepared treats for us. She was sure we would be hungry and actually went a little overboard with pies, candy and apple cider.
Halloween is just a few days away and we will look forward to greeting all the children that come to the Robertson house on Trick or Treat night. We will dress in our costumes, create a scene on the sideboard and greet the close neighbor children that are invited inside. It is always a fun evening!
Next Chapter or Return to Index
or