Chapter One Hundred
Chapter 100! I can't believe it! When I started keeping my Journal on that very first day I arrived here in August 2002, I did not have the slightest idea that there would be a hundred chapters. Even after the fifteenth chapter when it was decided to post it on the Internet, no such thought entered my head. The Journal was to be a record of events and happenings as seen through the eyes of a wood doll. So here I am today, just short of six years, still writing. It has been a chronicle of places we have visited, friends we have met, events in our family and town, celebrated holidays, and new skills acquired. Not to be forgotten are the addition of Hitty sisters along the way. So let's take a trip down memory lane and recall some of the highlights.
For five months I was an only Hitty and then in rapid succession, HittyBelle and little HittyPat arrived. Shortly thereafter, Esther completed our main rooms, a parlor styled after the description in the book of the Preble parlor and a bedroom. The first big event held in those rooms was my first birthday party. Hittys came from Connecticut, Philadelphia, Kansas City and Virginia to help me celebrate.
Several months later, our first Halloween. Costumes of course, and then on to Trick or Treat night.
Holidays seem to come in rapid succession. We celebrated Thanksgiving with a trip to Maryland for a turkey dinner with the family. Next was our first Christmas tree.
During the following months we visited Twin Manor, the elegant miniature house and attended the opening of the new wing of the Toy & Miniature Museum of Kansas City. Shortly after arriving home, a new sister arrived with quite a fanfare! Hitty Carol joined us as a surprise on Easter morning.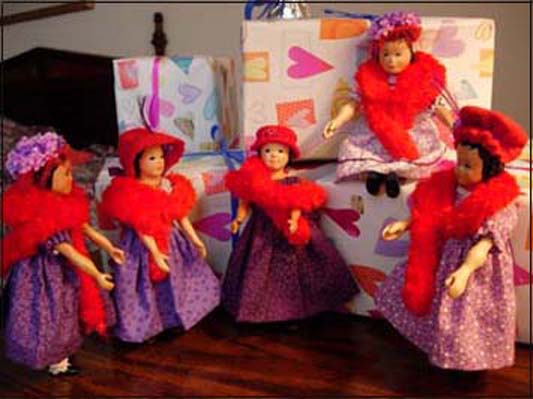 Life got very busy as we were off to a miniature show in Rye, New York to help host a tea, strolled Main Street in Zelienople for Horse Trading Days, peeked in on a teddy bear picnic, took note of Mother Nature's fury with Hurricane Ivan and then prepared for the Hitty Reunion in Williamsburg. That was a grand Red Hat affair and a new sister, Hitty Jane came home with us!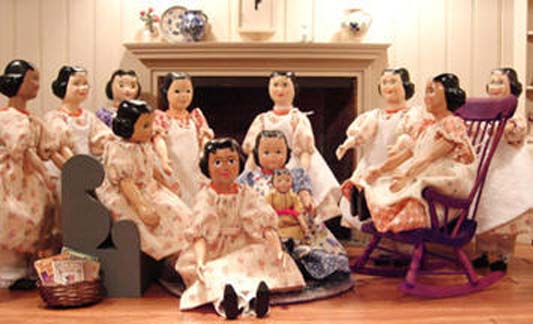 We then visited the Butler Doll Club and within the month formed a group of our own, a Hitty Club. It is a group of ladies that meet here at our house once a month and it is so interesting to watch each family of Hittys grow.
We had pestered Esther for months to get us a dog and finally it paid off! Tasha arrived and oh, she has been such a welcome addition to our family.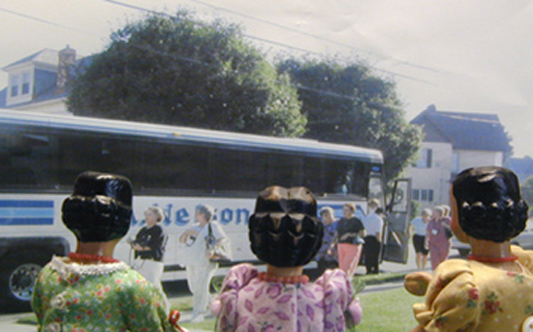 That year passed quickly. Among the events was a NAME (National Association of Miniature Enthusiasts) convention held in Pittsburgh with 45 of the guests coming to our house to see Twin Manor and the Art Rooms. That is also the year, Esther learned to carve! Oh my, I thought we were going to have sister Hittys to fill the entire house. She did narrow it down to keeping just three and so more sisters were added to our family, Hitty Marie, Hitty Emily and Hitty Beth.
One day a wonderful new piano arrived and so the Hitty Chorus was formed. The Hittys from Hitty Club all loved to sing and we put on the first of our musical concerts.
January always brings the celebration of the original Hitty's birthday and we join the Hittys across the country with a cake. Some of the Hittys did get rather sticky with the icing! The spring before we had a chance to see our ancestor Hitty at the Brandywine Museum near Philadelphia and it certainly was a thrill for all of us. Upon arriving home Hitty Sara joined our Hitty family.
About this time we learned how to make little books, visited the Impressionist Art Gallery, some of us went to camp and then we were off to Leavenworth, WA for the Bavarian Event. That was a fantastic week with some of the most beautiful scenery we have ever seen! Probably the biggest thrill was meeting Hitty families that reside on the west coast.
In September of 2006 we traveled to Stockbridge, MA to the seminar about our ancestor. Early the following year, two more sisters joined us, Hitty Rachel and Hitty Amelia. They arrived just in time for the piano recital which had been planned for quite some time.
Our days were filled with various happenings, the strangest of all was the week-end we went to see the covered bridges of Bedford County in the middle of Pennsylvania. Here was a hill that defied gravity! We rode our vehicles down hill but they actually went uphill!
By this time our Hitty family had grown to the point where I really needed someone to help me look after my sisters. Becassine was truly welcome. She is a cheerful companion and entertains us all with her stories. Shortly after her arrival, another sister, Hitty Lara joined us.
Becassine with her French heritage enjoyed the 4th of July. What a treat to show our truly American holiday with fireworks and all!
The next big event for 2007 was the Guthrie, OK Hitty get-together. Oh, how exciting. We were delighted to see our friends from previous gatherings and meet new ones. We found the decor of the buildings quite different and were told that the hotel we stayed in had been a bank back in the days when Guthrie was settled and there were actual bullet holes in the ceiling from a robbery!
We Hittys do celebrate all major holidays each year and this past Christmas was spent with Gunther and Gretchen, the two dolls that became part of our family at the Bavarian Event. They live in their own room and invited us to join them for a special party as would be celebrated in Bavaria.
This past spring brought Hitty Ann to live with us and more adventures, the most exciting being our trip to Niagara Falls and Canada. It was quite a thrill to see all the power that nature produces.
As I sit writing this chapter many memories come to mind and I remember making a quilt, Esther taking a class on the internet to make a Hitty, visiting the Tasha Tudor doll house, the opening of the new wing of the Kentucky museum, playing in the snow, looking at the stars through a telescope and learning about an anamorphoscope and oh, so many others. I do plan to keep writing and who knows, I may even reach Chapter 200!
Next Chapter or Return to Beginning
or